5
MAY
EDLR Meeting
Gentry 221
9:45am - 12:00pm
5
MAY
HESA Hooding Ceremony
Student Union Ballroom
at 3:00pm
6
MAY
Master's & Sixth-Year
Commencement
7
MAY
Undergraduate
Commencement
8
MAY
Doctoral
Commencement
RECENT ALUMNI & STUDENT NEWS
Editor's Note: This story, written by Neag School's Stefanie Dion-Jones, originally appeared on the Neag School's website.
In our recurring 10 Questions series, the Neag School catches up with students, alumni, faculty, and others throughout the year to give you a glimpse into their Neag School experience and their current career, research, or community activities.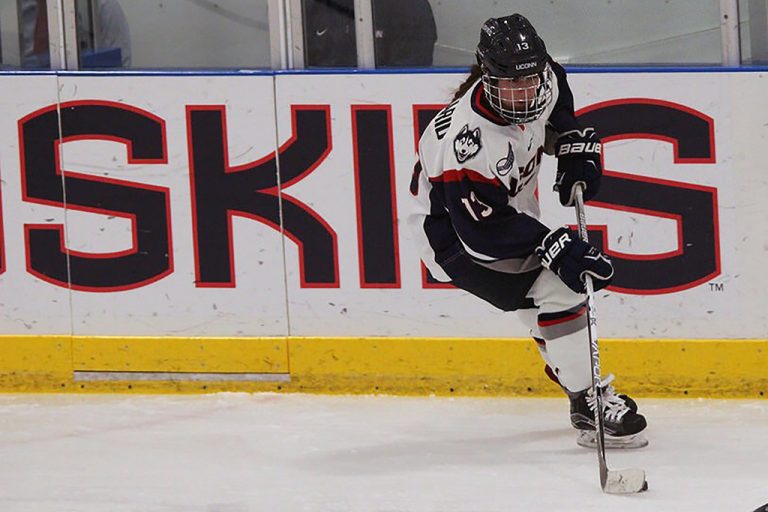 UConn women's ice hockey forward Marisa Maccario '18 (ED), a native of Marblehead, Mass., has been playing on a hockey team since the age of 5. Currently a sport management major in the Neag School, Maccario created a video this past fall for what she describes as her favorite class at UConn: Sport in Society, led by assistant professor Joseph Cooper. The video she co-produced has since been featured on youcanplayproject.org, an initiative dedicated to ensuring equality, respect, and safety for all those who participate in sports, regardless of sexual orientation and/or gender identity. Here, Maccario talks about her experience as a student-athlete, about the video project, and more.
What kind of time commitment does the ice hockey training and traveling schedule demand? How do you balance that with coursework and free time? The ice hockey season sits between both the fall and spring semesters, so our school year is very busy. We get started within the very first weeks of school and go all the way until March. We are on campus training over Thanksgiving, most of Christmas break, and sometimes spring break.
Once classes start back up, most of our team manages time very well with classes in the morning, a break in the afternoon for hockey, and classes at night. Mostly after classes is when we have study hall, tutors, and time to get all of our work done for the weeks ahead. The good part about the league we are in (Hockey East) is that all the schools are relatively close (for example, Boston College, Boston University, Northeastern, Providence, University of Vermont, and University of Maine). Seeing that we play schools that are close by, we are able to do day trips and do not have to travel Thursday through Sunday. Instead, we do day trips, which in turn helps our study schedule.
"Never use a busy schedule as an excuse. You can always make time to do something you love. Here at UConn, they give the option to play a sport you love — and enter into a very competitive program that will help you be successful once your sport it over."
What made you decide to major in sport management? It just felt right. I can never see myself leaving the sports world. Seeing that I have been an athlete my whole life and got the chance to further my athletic commitment into college, once I am done competing, I want to be able to see what goes on behind the scenes — [something] that, typically, athletes don't get a chance to see. I want to be part of someone else's experience, not as a teammate or a competitor.
What about the sport management program at the Neag School have you found most valuable so far? Sport management not only is in a field related to sports, but it's also in a school that has an educational leadership program. … Having a sport management program in the same school as educational leadership, for example, shows how leadership is important not only on the field or ice, but also in the classroom.
Tell me about the video project you created for Joseph Cooper's Sport in Society course last semester. The guidelines were very open to whatever you wanted: pictures, PowerPoints, paintings, or videos. You just needed to talk about how society impacts sports and what you have learned throughout the semester.
We decided to put together this video in particular because we thought that not only was it a topic we talked about in class, but also something that impacts athletics at UConn greatly. We are a campus and athletic culture that accepts everyone and anyone for who they are, and not what society tells them to be. Student-athletes need to show their openness in these matters to make sure they and their teammates feel comfortable competing for a school that doesn't care about your gender, race, or sexual orientation. If you can play the sport, that's all that matters!
In your own words, why is inclusiveness in sports so important? With a sport like ice hockey, you have six players on the ice at a time: one in the net and five skaters. To be a team, you need to have skills from each player to win and, with hockey, everyone brings something different. If we didn't have inclusiveness in sports, we wouldn't have teams; we would have individuals playing sports.
The whole point of sports is to win, and with winning comes a group effort. You need to have different abilities with the same goal in mind. You need to be able to have open arms to new people because you never know who will be leading you to a national championship. If you can play, you can play. It shouldn't matter about anything else as long as you want to win.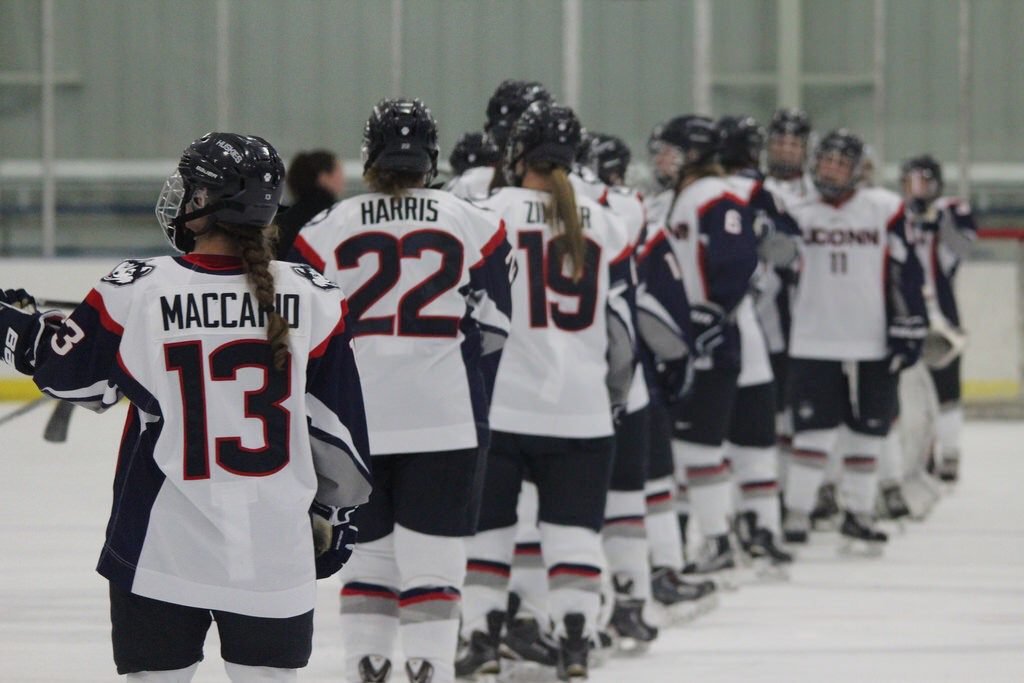 How can coaches and teammates ensure that the team they lead or play on is as inclusive as possible? I think the best attitude that any player or coach can have is to look at work ethic, skills, and technique because that's what makes an athlete an athlete. I believe at UConn we have a lot of student-athletes and coaches that judge off those rules and nothing else. … We bring each other up. Positive attitude and inclusiveness are key especially on our team, because your team is your family away from home. With 500+ athletes at a top university, everyone has to be on the same page and know that discrimination is something that doesn't mix well with a winning culture. So that is left at the door the second you set foot on our campus.
What kind of reaction have you received from those who have seen the video? I have experienced a lot of positive feedback from the video — way more than I thought. I had someone tell me that when they attended the university, an article was released stating that UConn was ranked by the Princeton Review as No. 12 among the 20 most homophobic campuses in the country. Today, we have a video stating that we support our teammates that identify as lesbian, gay, bisexual and transgender. How times have changed — and will continue to change for the better. When doing this video we, the UConn student-athletes, pledged to keep our campus safe for all, and I think that, in itself, has touched a lot of people, both current and alumni student-athletes.
What's your advice for those students who may be interested in checking out either the Neag School's sport management program — or the sport of ice hockey? Never be afraid to do too much. By this I mean: Do everything you want to do and more. Never use a busy schedule as an excuse. You can always make time to do something you love. Here at UConn, they give the option to play a sport you love — and enter into a very competitive program that will help you be successful once your sport it over.
Always ask questions because you never know who you might be talking to and where they can lead you in the future. That's what is great about the sport management program; the professors are great connections for down the road when you're looking for jobs.
What's your favorite spot on campus? My favorite spot on campus would have to be the rink, not only because I spend most of my time there on and off the ice, but also because it is home. The rink is not just for hockey, but a safe place where I can always go when I'm stressed and have a lot of work.
What's something most people don't know about you? I am second-generation Italian- American; my grandmother was a refugee during War World ll and traveled to America.
Read other installments of the Neag School's 10 Questions series here.
RECENT FACULTY & STAFF NEWS
Editor's Note: This story, written by Matt Barresi of The Daily Campus, originally appeared on their website as part of their Women in Sports Week (WISW) series.

The fight for equality in sport takes place everywhere. Right here at the University of Connecticut, Laura Burton, an associate professor in the Neag School of Education and one of the co-heads of the Sport Management program, is doing her part.
A former athlete and NCAA Division III Athletic Trainer, Burton returned to her native Nutmeg state to complete her education here at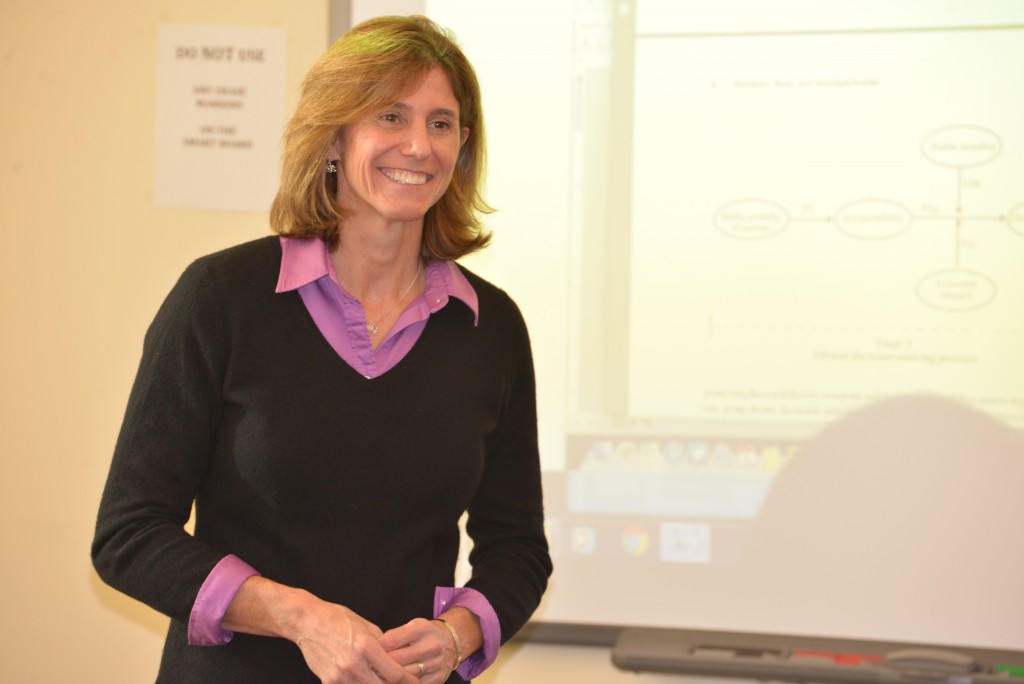 UConn and since then has dedicated her work in large part to research about the roles of gender in sports. She also served as a faculty member at North Carolina State University.
"Because I lived it. I was always the kid who felt like the girls weren't getting fair gym time in high school or we didn't have equal uniforms..." Burton said on what inspired her to get into this line of research. "I knew I wanted to study something I had experienced."
As a professional some of her earlier work focused on how athletics benefited women, now she has a more concise focus, women in leadership positions.
"There are very few women in leadership positions in sports organizations across all domains, from interscholastic, intercollegiate, professional or international sport, women are really underrepresented in leadership." Burton said.
The discrepancy has no logical basis either.
"Think, half your participant population is women, or girls, why don't we have an equal number of people at the leadership table?"
Burton, and her peers in the field, find it to be due to our perceptions on who should be in those roles which hurts women.
She says, "We don't perceive women to be capable of and/or do we want them in leadership positions in general. In sport organizations, because we think it's a real male domain, we don't think that women can run a football program or an athletic department. There's a lot of stereotyping that's influencing women, both trying to get into those positions and how we evaluate them when they're in it."
However, women in leadership roles is where UConn first gets accolades from Burton when it comes to women in sports here in Storrs.
"Beth Goetz (the Chief Operating Officer of UConn Athletics) is not only a women in leadership but the types of roles she has are really important," Burton notes.
"She's in charge of football. That is critical for her to continue to be successful. To be an Athletic Director, you need to have demonstrated you can handle what is the largest team with the greatest amount of operating expenses, and the greatest opportunity for revenue generation," she said.
David Benedict's willingness to put her in such a vital role signals to Goetz, and the intercollegiate athletic community, that she will be an AD one day. It's an opportunity not often provided to women and Burton credits Benedict for the initiative, believing it will help propel Goetz to her higher career goals.
However that doesn't mean UConn is doing everything right.
"I call them on the carpet for not having as many women coaching women's sports. I think we have arguably the best coach in the women's (basketball) game and I think he (Geno Auriemma) does an excellent job supporting assistant coaches but I think he made a mistake a couple weeks ago when he said there aren't enough women interested in coaching."
Says Burton, "I think that's patently false. There are a lot of women interested in coaching, but there are a lot of constraints put on women that want positions in coaching. You don't see a lot of women lose jobs and get re-hired and it's a real problem."
"I'd like to see UConn seek more women's coaching on the women's side and it'd be wonderful to see women coaching on the men's side... I think our support for our women athletes is phenomenal but I also think there's always places to provide more resources and more equity," she said.
The problems that face UConn are representative of problems across women's sports as a whole however. When it comes to improvement, nearly everyone makes the list.
According to Burton, "Who's doing well? Not many. There are few organizations that really do well, the one that comes to mind and it's probably not going to be a surprise, is the WNBA because they do have women in leadership positions."
"But it's the one professional sport organization in the US that's at the highest profile for women. The rest, honestly I don't think are doing well at all. I don't think any of the major men's professional sport organizations are and I think intercollegiate athletics are doing terrible."
The number of women leading FBS schools, school that play the highest level of football and subsequently often have the largest athletic departments, is less than 10 percent.
The number of women coaching in women's sports is declining year after year. And there's no balancing effect, because while more men become coaches of women's sports, there are really no women becoming coaches in men's sports.
Burton points to The Institute for Ethics and Diversity in Sport (TIDES), as a great evaluator of this. Under the the Direction of Dr. Richard Lapchick from the University of Central Sport, they annually release "Report Cards" grading the practices and statuses of the major sport leagues as well as the intercollegiate athletic system. According to TIDES, college basketball as a whole has improved in recent years while football at all levels continues to score miserably.
"I think the whole industry still needs to look and see 'Why are there so few women?'" said Burton.
One of the biggest areas of momentum in the movement for equality was the recent protest from the US Women's National Team for both hockey and soccer.
"It speaks to a bigger problem that they had to go to that extent, where they had to threaten to not participate, to get the governing body of their sport to then negotiate for a contract," Burton said on the issue. "There should've been a recognition that actually these women are playing at the highest level and representing our country extremely well, they're champions, they're medalists, they're contenders, why did it take (threatening to boycott) to get equal pay?"
Burton thinks as a whole this could be the next big thing for women who want their fair share.
"I suspect that this is going to unleash for a lot of our national teams. I wonder if some of our team-based sports are going to look across at their male counterparts and wonder why they aren't being provided equal resources," Burton said.
What else is next?
"I continue to support and hope we will see equal pay for our men's and women's coaches. That's a problem when you look across comparable sports. That's an area where people are starting to pay more attention," Burton said.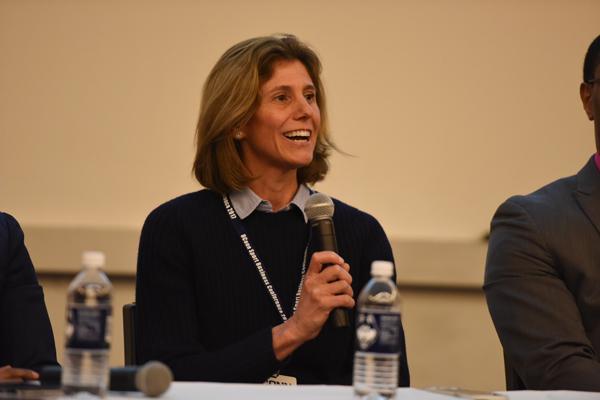 Coaching is an issue Burton holds in importance.
"I hope people are starting to pay more attention to why we're losing so many women in sports. My colleague Nicole Lavoi from the Tucker Center for Girls and Women in Sport is documenting what has become a pretty significant decline in women coaching in sport at the college level. This isn't good, we shouldn't be losing women as coaches, but rather be fostering and supporting young women who want to be coaches."
Burton is committed to this for the long haul.
"I'm going to stay in this because I still think there's more work to be done," she said. "There's lots of science that says gender stereotypes influence how comfortable we are with women. We haven't fully fleshed out how that's influencing women in sport organizations and I'd like to continue to really explore that."
While women deserve equality in all domains, and will continue to push for what is rightfully theirs, in the world of sports it's going to be a process. With all issues of that comes to basic rights, there's always going to be individual or group feats of activism and those who promote change and those who prohibit it. While all this unfolds, the work of Burton, and the increased exposure, should make us all more conscientious as fans of sport.
View this story as it originally appeared on The Daily Campus' website.