13
NOV
Sport Business Association Meeting
School of Business
6:00pm
15
NOV
 UCAPP Early Admissions Deadline
RECENT ALUMNI & STUDENT NEWS
In Higher Education, it is not uncommon for students to balance their studies with a full or part-time job. Many students enrolled in the programs of the University of Connecticut's Department of Educational Leadership (EDLR) are not only students, but working professionals in the field. The "Student-Professionals" series will highlight these hard-working student-professionals and how they balance their responsibilities.  This feature focuses on a student-professional in the UCAPP program.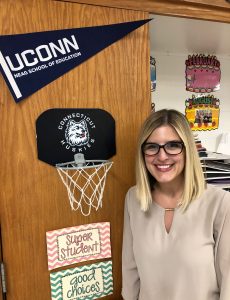 Bethany Rataic, a second year student in University of Connecticut Administrator Preparation Program, manages her academic work with her day-job in a different type of scholastic setting – as a first grade teacher at Lake Garda Elementary School in Burlington, CT where she has taught for the past 8 years.
She applied to UCAPP for the same reason that she wanted to pursue a career in teaching; because she loves working with kids and wanted to have a positive impact on their educational development. Through the UCAPP program, she is hoping to broaden her perspective and prepare herself to have a greater impact on the lives of more students as an administrator.
Rataic's current principal, Stefanie Anderson, has been a great mentor and support system in her decision to enter the UCAPP program and pursue her 092 certification. When Rataic first considered this career step she was concerned that it would take her attention away from her classroom, but Anderson reassured her of her ability and reminded her of her mission as an educator – to inspire and empower greater learning in the lives of as many kids as possible.
Balancing a career as an educator with the responsibilities as a student of higher education is a challenge as both demand a large time commitment and mental capacity. Rataic explains that in order not to over dedicate herself to one role or the other, she has to hold herself accountable and continuously look at her priority-setting. As UCAPP is only a 2-year program, it has gone by fast and she wants to ensure that she is getting the most out of all it has to offer without sacrificing her work-quality in the classroom.
Rataic attributes her success as a student-professional to a commitment to her core values. She is dedicated to her goals and sees no other option than to persevere through challenge. In high school, Rataic's guidance counselor told her that she would never get into UConn. Today, she holds multiple degrees from UConn including a B.A. in Human Development and Family Studies, a B.S. in Elementary Education and a M.S. in Curriculum and Instruction in addition to her current enrollment in the UCAPP Program.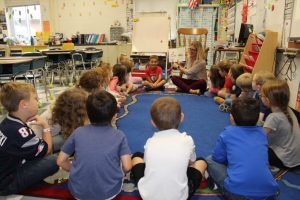 Rataic has not only taken advantage of opportunities in her career, like studying and working in London as part of her Integrated Bachelor's/Master's degree, but she's turned challenges into growth opportunities. She did not get into UConn, the Neag School nor UCAPP in the traditional admissions cycle, but she never let that rejection deter her from her goals. She is determined and quick to ask for feedback, including talking to Richard Gonzales, UCAPP Administrator, concerning the rejection of her application. This initiative and eagerness was recognized, and she was admitted into the program. Her commitment to growth and her end-goal has been a key factor in her success, and an asset as she balances the challenges as a student and a professional.
To other student-professionals, Rataic encourages them to self-reflect and recognize that there are going to be challenges. She explains, "Rely on your support system to help and motivate you, and be confident in your ability to meet these challenges."
RECENT FACULTY & STAFF NEWS
EDLR's Joshua Hyman argues how race matters within schools and leadership positions: UConn Today and AJC cover this important research.
This fall, Noam Sturm, Principal of Roaring Brook School in Avon and UConn alumnus, will return to facilitate the second module of UConn Neag's PK-3 Leadership Program.  The module, which focuses on assessment and evaluation, brings together a team of nationally-renowned experts to explore the nuances of assessment at the PK-3 level.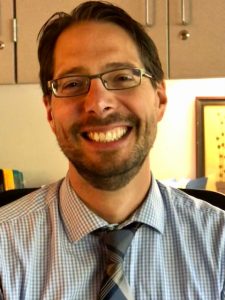 Sturm has over two decades of experience in the field of elementary education, including time spent as a teacher, curriculum specialist,assistant principal, and now principal in the Avon Public School system.  In addition, Sturm has served on a multitude of committees and boards, which includes his involvement in the Systemic Instructional Improvement Program (SIIP) through the Connecticut Center for School Change; his service as a LEAD CT Policy and Practice Fellow through New Leaders; and his leadership as a Board Member of Great by 8, a regional initiative to improve access to high-quality services in the areas of early childhood education and health.
This is Sturm's fourth year as a facilitator for the PK-3 Leadership Program, and he has been a member of the UConn community for even longer: he earned his bachelor's degree, master's degree, and sixth-year diploma in Educational Leadership at UConn.  According to Program Director Dr. Karen List, Sturm's unique combination of "sharp intellect, creativity and flexibility" make him an ideal facilitator for the PK-3 Leadership program. Furthermore, said List, "Noam has worked with a wide range of children and families, from those in abject poverty to those with great wealth. He's experienced with bilingual families. He's adept at bringing coherency across and within the grades, and he believes in continuous improvement."
Sturm said that the upcoming module of the PK-3 Leadership Program approaches assessment from all angles, from assessment of children at the PK-3 level to assessment of PK-3 teachers.  
More broadly, said Sturm,"The program offers tools to help people be advocates for our field. We all need to serve as ambassadors for the age-3 to grade-3 continuum."
"Education is measured ever more tightly," said Sturm, "and as educators, we want to make sure we can support our programs. In this module, we deal with real questions: How do I pitch my own program?  What are the metrics I can provide to the Board of Education, to taxpayers to show that there are substantial benefits?" Sturm and List have incorporated these questions into the curriculum to help participants gain a deeper understanding of how to address these issues that are so crucial to success in the field of early childhood education. As a result of his extensive service in the field, said List, "Noam is uniquely well-positioned to be the instructor for this module."
Like many in the field of higher education and student affairs, Dr. Gerardo Blanco traces his career choice back to his undergraduate years. As a very involved undergraduate student, Blanco says, he found mentors who helped him realize that ensuring a positive experience for college students could be a profession in itself.  "What was a little different for me than for many others in my field is that pursuing this pathway required international mobility," says Blanco.
Blanco is originally from Mexico and earned his Bachelor of Arts in Educational Studies from Universidad de las Américas Puebla, an institution he says was rich with student organizations and campus activism.  Nevertheless, once he decided that he wanted to pursue further study and a career in higher education and student affairs, he realized that his options in Mexico were limited.
"In my experience," explains Blanco, "international mobility and the pursuit of higher education have been intertwined."  
Beginning his Master of Education (M.Ed.) at the University of Maine was a crucial moment for Blanco.  He completed his M.Ed. in 2007 and continued to deepen his New England perspective at the University of Massachusetts Amherst, where he completed his Doctorate of Education (Ed.D.) in 2013.  New England, he says, holds a special significance for him both because of his personal experience and the richness of education in the region.
After earning his Ed.D., Blanco spent five years as an assistant professor of higher education at the University of Massachusetts Boston and spent the summers of 2016, 2017, and 2018 as a visiting professor at Shaanxi Normal University in Xi'an, China.  This fall, Dr. Blanco joined UConn's Neag School of Education, where he brings his expertise to the Higher Education and Student Affairs master's program.
As a teacher, Dr. Blanco believes that students are in charge of their own learning, and highlights that the relational aspect is the most rewarding part of his work.  "Students know what they need," says Blanco. "My role is facilitating interactions that promote reflection and learning."
Broadly, Blanco's research looks at how decision-makers understand quality in the context of higher education, particularly the relationship between quality and internationalization.  That relationship might appear obvious on the surface, he says, since the number of international students often plays a role in ranking universities, but for Blanco it's deeper than that.  "My research asks questions such as: How do we understand higher education as an international endeavor?," says Blanco, "And how does that connect with our ideas about quality?"
"I think higher education has a great potential for empowering people and interrupting inequality, and I'm very interested in how this connects with the international mobility of programs, of people, of ideas."
At first glance, says Blanco, his focus on assessment, accreditation, and quality can sound a bit dry.  But to him this focus on the "everyday" is precisely what he finds so fascinating. "Most of us spend the majority of our careers in tasks that feel everyday, routine, even taken-for-granted," says Blanco. "Given the volume of these experiences, I think it's worthwhile to explore them. When we look very closely at the work that we do, we can carry out that work in a way that is more thoughtful, more self-aware."
Looking ahead, Blanco is excited to pursue new research exploring the experiences of international students and scholars.  The topic is not only personally important to him; he's also interested in the intersections of being an international student or scholar with other personal experiences, like career decisions and immigration status.  "We tend to explore all those separate topics, but not always in dialogue with each other," says Blanco.
The connection between scholarship and practice is central to Dr. Blanco, and he maintains a strong professional network that helps him stay connected with the issues that are pressing for scholars and practitioners across the field.  "I always have practice and practitioners in mind as I am conceptualizing a research study," says Blanco. He also hopes that his research process itself can create a space for reflection for the busy professionals who work in assessment and institutional research.  "When I'm conducting interviews, it's not rare for people to say to me, 'oh that's interesting, no one has ever asked me what I think about my work,'" says Blanco. "I hope that the interviews and the research process themselves can be an opportunity for people to reflect about their practice."
"The more we reflect, the more we can transform our practice as professionals."

"Reform to me means real, fundamental change," responded Department of Educational Leadership Professor, Dr. Casey Cobb, when asked about what reform meant to him. He explains the idea that true reform is radical, but "school reform" has been ongoing for the past four decades – meaning we have not gotten it right yet.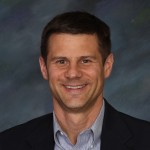 Dr. Cobb's research pushes the education reformers, or those responsible for education reform, to consider the larger sociopolitical, health and economic conditions under which schools operate to ignite real change and improve educational outcomes. In his research, he examines the distribution of resources related to child development across metropolitan Hartford. While school choice programs brought on by the Sheff v. O'Neill case in 1996 have been in place for over 20 years, the greater Hartford area remains one of the most racially and economically segregated regions in the United States.
Specifically, his research uses geospatial techniques to explore housing, economic, health, and educational indicators in Hartford's Sheff region. While his study is not designed to confer causal relationships, it does offer a social epidemiological case study that policy makers can learn from. Results demonstrate gross inequalities on a variety of key indicators related to child development, including housing and property resources, health outcomes and accessibility, and household income. These findings are significant as they reveal structural inequalities in the relatively small geographic area, which is reflective of similar inequalities in the educational experiences of students in the area.
The use of geospatial techniques to study educational issues and child development is relatively new. The method uses several sources of data more commonly used in Public Health and Economics. This new perspective adds to educational policy reform in a number of ways as it offers a more holistic account of the conditions under which schools operate in more and less advantaged communities. Additionally, the results are presented in multilayered maps, which communicates data in real and specific contexts for a more meaningful impact.
Oftentimes, school reform policies limit their focus to just schools; however, Dr. Cobb's research tackles inequalities outside of the scholastic environment. This research not only offers insight to scholars in the education space, but it is a successful example of interdisciplinary and inter-modal research that can be used by those in different fields of study as well.
What intrigues Dr. Cobb most about this research is how the mapping data convey powerful messages that can lead to fresh conversations about how best to reform schools and the communities in which they reside. The maps bridge economic, health, housing and education data that are typically looked at in isolation.
"I think we are all unique as researchers because we each bring different knowledge bases, world views, and analytic skills to bear on educational problems. I examine policies with an eye toward their implications for equity and fairness."

-Dr. Cobb, on his research focus and the importance of diversity among researchers
Dr. Cobb is a professor with the Department of Educational Leadership, whose research focuses on school choice, accountability, and school reform, where he examines the implications for equity and educational opportunity. He holds an A.B. in Economics from Harvard University, an M.S. in Educational Leadership from the University of Maine and a Ph.D. in Educational Leadership and Policy Studies from Arizona State University. He is one of the many professors in the department who is using research to challenge current ideas, develop a broader perspective and create actionable reform.
Jennie McGarry and Husky Sport are mentioned in a story about the importance of physical activity in schools in UConn Magazine. 
An opinion piece co-written by Richard Schwab for the Hartford Courant shares words of wisdom for college freshmen.
Rachael Gabriel authored a piece featured in the Washington Post about best practices in teaching reading to kids and the debate around balanced literacy.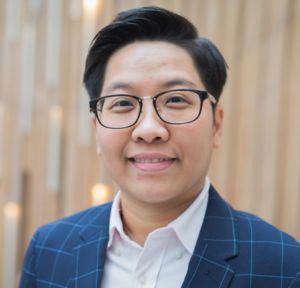 Each year, the U.S. Department of State, the Center for Sport, Peace & Society at the University of Tennessee Knoxville, and espnW co-sponsor the Global Sports Mentoring Program's (GSMP) Empower Women Through Sports. This is an international leadership development initiative that recognizes female achievement in sport, and aims to empower women to be ambassadors of change for female athletes around the world. The initiative is based on evidence that women and girls who are exposed to sport increase their chances of success both on the field and in other areas of their lives.
"When women and girls can walk on the playing field, they are more likely to step into the classroom, the boardroom, and step out as leaders in society."

-U.S. Department of State's Bureau of Educational and Cultural Affairs
This year GSMP is partnering 15 emerging female leaders from 14 countries with leading executives and experts in the U.S. sports industry. We are excited to announce that the Department of Educational Leadership's Laura Burton, Danielle DeRosa  and Jennifer McGarry were selected to serve as mentors to an emerging leader from Vietnam, Dr. Tra Giang "Jane" Nguyen. This is DeRosa's second year as a program mentor, while both Burton and McGarry will be serving as mentors for the third year in a row. The Department welcomed Dr. Nguyen on October 5th and will host her until October 24th.
Dr. Nguyen's passion for sport began at a young age as she excelled as a top youth table tennis player. However, her achievements in sport would grow beyond her success as an athlete. After earning a bachelor's degree in Physical Education, she moved to Thailand to pursue her M.S. and Ph.D. in Exercise and Sport Management from Burapha University. During her studies she was exposed to Sport Management and Psychology for the first time, which prompted her to create the first non-physical sport curriculum when she returned to Vietnam – including courses in sport management, marketing, economics, and tourism.
In her current role as a professor with the Institute of Sport Science and Technology at the University of Sport Ho Chi Minh City in Vietnam, Dr. Nguyen bridges the theories she teaches in the classroom with real-world experience – often inviting her students to assist her in coordinating major sport conferences and other events throughout the year. In 2017, Jane organized the International Conference on Sport Management, the first university sport conference ever held in Vietnam with more than 200 professors representing 28 countries.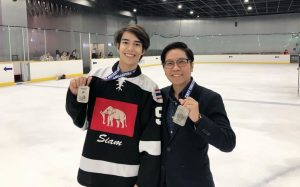 In addition to her university work, Dr. Nguyen served as general manager for Thailand's men's and women's national ice hockey teams at the 2017 Asian Games in Japan where the men won the gold medal. She also managed the team during the 2017 Southeast Asian Games in Malaysia where the men won the silver medal. She currently works within the association to secure funding to run ice hockey camps for girls and women.
Dr. Nguyen is also currently working on a major project inspired by her time with Sport for Tomorrow, an initiative led by the Japanese government. Specifically her project titled, "Walk and Run for Tomorrow" will consist of a marathon and other racing events for students with and without disabilities in Ho Chi Minh City.
In her featured GSMP emerging leader profile, she explains "In Southeast Asian countries, we are very patriarchal. Women never have time to exercise or think about sports. That is why I work with students. I want to change the mindset in Vietnam so that women can participate in sports. And I want to show people it isn't only physical education; sport can make the lives of all people better." Although there are barriers for women to participate in sport, Jane sees her role as an advocate in this regard.
"We are so pleased to continue our involvement in this exciting and meaningful program. GSMP has has such a positive impact on the lives of girls and women around the world, and we lucky to play a role in support of the program. Dr. Nguyen is a natural 'fit' with us here at UConn, as she teaches and supports students in sport management at her university, while also seeking to positively impact the lives of girls and women through sport and physical activity."

-Dr. Laura Burton, UConn Sport Management Professor and GSMP Mentor
Throughout the month, Dr. Nguyen will be spending time with Sport Management faculty at UConn to learn more about the context of sport in the U.S., non-profit development and social entrepreneurship, and gender and leadership development in sport. To share the GSMP mission more broadly with the UConn community, the Sport Management Program will host Dr. Sarah Hillyer, Director of the Center for Sport, Peace & Society at the University of Tennessee Knoxville, to talk about empowerment through sport on October 11, 2018. This event will be a part of the Beyond the Field Speaker Series, and is free and open to the public.
To date, GSMP has graduated 99 delegates who have gone on to impact 225,000 lives in more than 55 countries. Our department is fortunate to have had the opportunity to mentor delegates and be a part of this change. We look forward to continuing to carry out this mission, and are excited to welcome Dr. Nguyen this year!
Learn more through this featured GSMP video or visit the U.S. Department of State's GSMP website. Or, check out GSMP on Facebook.