29
JAN
Connecticut Association of Public School Superintendent's (CAPSS) Conference Room
26 Caya Avenue
West Hartford, CT
3:30-5:00pm
02
FEB
EDLR Meeting
Gentry 142
9:45-12:00pm
06
FEB
Norwalk City Hall Board of Education Room 330
125 East Avenue
Norwalk, CT
3:30-5:00pm
RECENT ALUMNI & STUDENT NEWS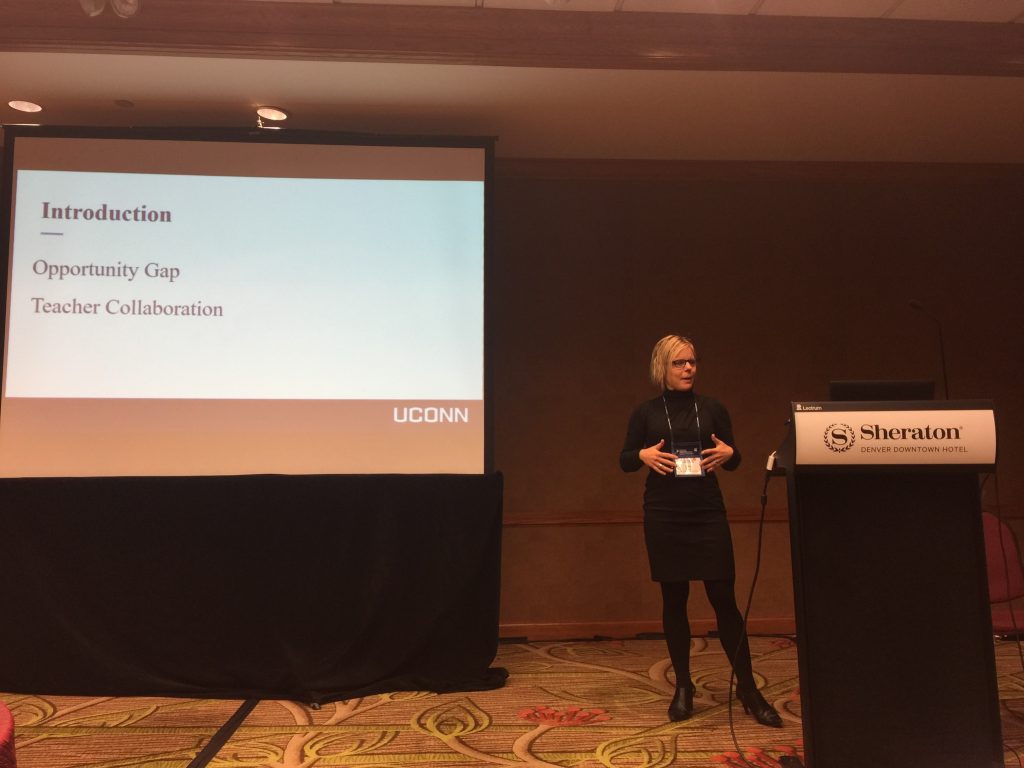 The 31st annual University Council for Educational Administration (UCEA) Convention was recently held on November 15-19, 2017 at the Sheraton Denver Downtown Hotel in Denver, CO. This year, six students from the University of Connecticut's Department of Educational Leadership presented their research. Daron Cyr, Jonathan Carter, Shannon Holder and Alexandra Lamb represented the Learning, Leadership and Educational Policy Program, while Scott Hurwitz and Lisa Sepe represented the Doctorate of Education (Ed.D.) Program.
The UCEA Convention engages participants in discussions about research, policy, practice and preparation in the field of education with a specific focus on educational leadership. This year's theme was Echando Pa'lante: School Leaders (Up)rising as Advocates and (Up)lifting Student Voices, and the intended discussion was centered around encouraging opportunities for reflective dialogue regarding the educational contexts that students, teachers, principals, and superintendents will be facing within a changing national climate and its impact on educational policy.
Such an opportunity has a meaningful impact on the development of doctoral students as researchers in addition to their professional advancement. Scott Hurwitz, a third-year doctoral student pursuing his Ed.D. and the current principal of Gideon Welles School in Glastonbury, CT, commented on the experience saying,
"Presenting at conferences like UCEA affords us the opportunity to collaborate with university faculty and leadership scholars around the globe. We are able to share our research and receive feedback that informs our current and future work."
Hurwitz's presentation was titled, "Institutionalizing School Security: A Case Study," for which he utilized two branches of institutional theory, logics and myths, and symbols to analyze the organizational shifts that took place in Connecticut schools following the tragedy at Sandy Hook Elementary School. He worked on this research with the Department of Educational Leadership's Dr. Sarah Woulfin and Dr. Jennie Weiner, who he said, "...served as guides and mentors," in helping him produce relevant and robust research. Hurwitz is an accomplished researcher, who recently defended his Capstone proposal in October 2017. His proposal examined the how school leaders frame policy specifically around Connecticut's anti-bullying policy.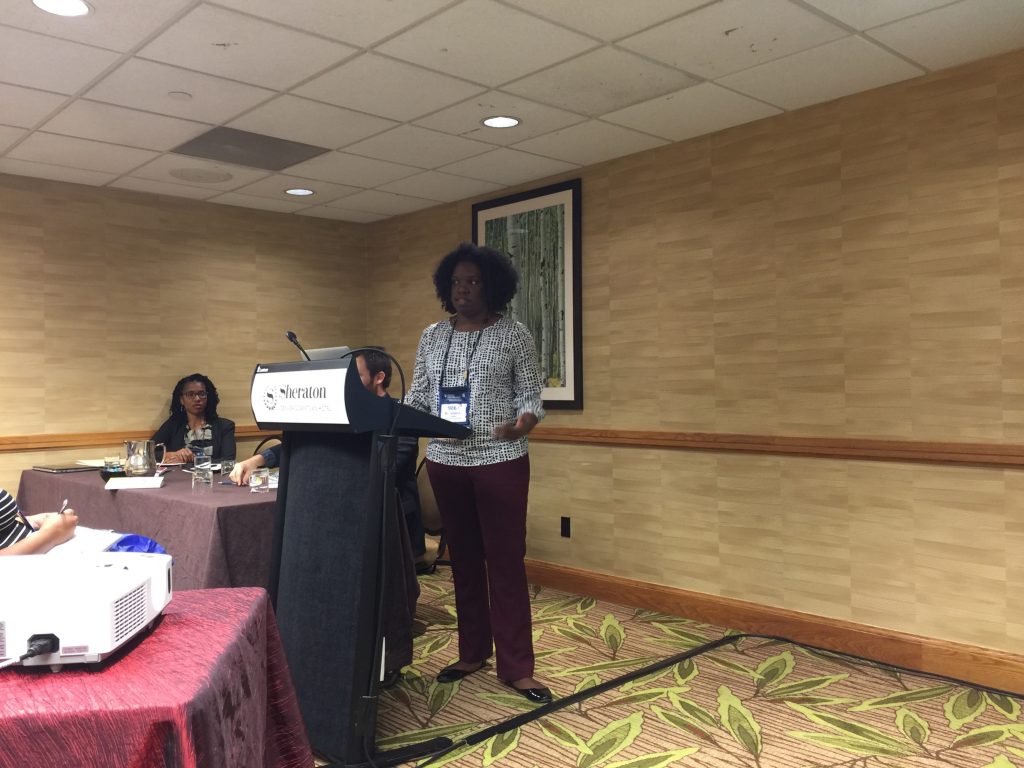 Shannon Holder, who is a third year doctoral student in the Leadership and Educational Policy program presented two projects at this years UCEA conference. Her first presentation was titled, "The Sheff v. O'Neill Decision and Interest Convergence," where she analyzed the ruling using Derrick Bell's (1980) Interest Convergence principle which suggests the interest of Blacks in achieving racial equality will be accommodated only when it converges with the interests of Whites. Her findings revealed two themes: interests converge in the court documents, and interests have diverged since the case was decided. Holder's second presentation was titled, "Teacher Sensemaking in the Detracked High School Classroom."  This qualitative study of high school teachers examined how they made sense of a detracking reform. Sensemaking theory is utilized to analyze participants' conceptualization of detracking. Holder found that participants tended to have different definitions of detracking and as participants transitioned to teaching in a detracked environment those definitions became increasingly amorphous. These findings signal that teachers may create definitions of detracking that diverge from its formal intentions with implications for policymakers and practitioners.
Like Hurwitz, Holder had previous exposure to UCEA as they both presented at the 2016 conference in Detroit, MI. Jonathan Carter, a 2nd year Ph.D. student in the Leadership and Educational Policy program was a newcomer to the student research scene as the 2017 UCEA Conference was his first time presenting research with the Educational Leadership Department at UConn. His research, titled, "Supplementing the core curriculum in a university principal preparation program," looked at an improvement initiative undertaken by one university's  principal preparation program to develop a supplemental workshop model to address identified gaps in the core curriculum. Carter was guided by EDLR's Dr. Richard Gonzalez. As a researcher, Carter found the entire experience valuable to his development saying, "The feedback from other scholars in the field was very useful and will help guide our revisions as we prepare the paper to submit for publication."
The UCEA conference was one of three academic conferences that the University of Connecticut's Department of Educational Leadership students had the opportunity to present at this past year, including the The Harvard Graduate School of Education Student Research Conference in which six students attended and presented their research and the American Educational Research Association (AERA) Annual Meeting where five different students were able to present at.
Chelsea Connery, a second year Ph.D. student in Leadership and Education Policy, who attended the Harvard Conference offered a sentiment that all of the student researchers could identify with as she explained,
"Attending conferences such as these, being around motivated and like-minded individuals, can be reinvigorating, which is important, especially in the current sociopolitical context; it can re-foster your hope and resilience."
The Department is extremely proud of the research and work that our students continue to produce, and thankful for the brilliant and caring faculty that always support them.
Access the full 2017 UCEA Convention program at ucea.org/conference/program-2017. 
RECENT FACULTY & STAFF NEWS
Two representatives fr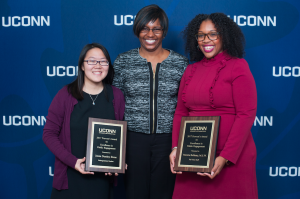 om the Neag School of Education at UConn, Patricia Bellamy and Jenna Stone, were awarded the 2017 Provost's Award for Excellence in Public Engagement. The reception for the award winners was held on Nov. 14 to recognize these individuals for their exceptional dedication and significant contributions.
Patricia Bellamy, Assistant Director for Programs and Partnerships for Husky Sport, recently received the 2017 Provost's Award for Excellence in Public Engagement in a full-time staff position.
Patti began volunteering for Husky Sport, a program established through the Department of Educational Leadership in the Neag School of Education, during her undergraduate career in 2009. She said that her initial passion for working with Husky Sport, and the relationships that she built in doing so, ultimately led her to switch her career focus and pursue a Master's Degree in social work.
In working with students similar to and different from her, Patti learned that to truly connect with someone, one must be willing to understand where and who they are, without forgetting about his or her personal experience.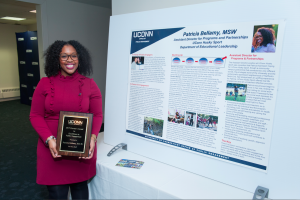 "Meeting people where they are is a social work term that I think more and more industries are grasping, but it's understanding where people are, learning from them, not trying to be the expert of their career paths and their history, just letting people lead, listening and understanding from that and growing from that," Patti said.
After receiving the award, Patti said that she was so proud that her experiences are being recognized, especially because she is normally shy when it comes to sharing her own accomplishments.
"I smiled like crazy but I couldn't believe it, it seriously had not even been on my mind," she said.
Justin Evanovich, Managing Director of Husky Sport, said that the people and partners of Husky Sport benefit greatly from Patricia's sustained leadership, caring support and positive energy.
"She shines in this work through both her ability to foster meaningful relationships, and her facilitation of effective systems in collaborative partnerships," he said. "Patricia continues to positively empower others as part of her impactful leadership throughout all facets of Husky Sport."
When asked about where she would like to see herself working in the future, Patti said that a few years ago she might have said that she would like to have her own program but Husky Sport seems to have changed that path for her.
"Everything for me starts with an experience, a relationship and connections, building connections with people and I don't want just anything, I want to really enjoy it," she said. "The next thing is going to have to be ten times more awesome, twenty times more awesome, for me to even consider."
Jenna Stone, a senior Elementary Education major in the Neag School of Education, was awarded the 2017 Provost's Award for Excellence in Public Engagement as an undergraduate student.
Jenna currently serves as the coordinator for Jumpstart within Community Outreach, but has volunteered with the program since her freshman year at UConn. One of her primary focuses in this position is to decrease the achievement gap in early childhood education while acting as a liaison between team leaders and student leaders in Community Outreach.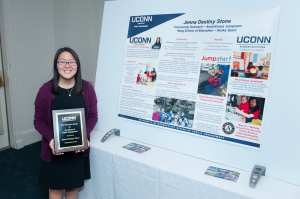 Jenna has learned while working with Jumpstart that she can act as a leader not only for preschool students, but for college students as well. After receiving the award this year, she said that she was more excited to share her experiences than to receive the recognition.
"Any time I get to share about the programs I'm involved with, I get excited," Jenna said. "Service isn't about the need to be recognized, but when you are it puts a big smile on your face."
Not only is Jenna involved with Jumpstart, but she also serves as a volunteer for Husky Sport. Justin Evanovich said that Jenna possesses an extreme work ethic and a mature approach to managing her many endeavors.
"I've been fortunate to learn from Jenna about her work with Jumpstart, as well as her peer-and-programmatic leadership roles with Husky Sport, the Office of Community Outreach and the IB/M Neag Teacher Prep Program, to name only a few," he said. "In her everyday life, Jenna impacts many as an active citizen. We at Husky Sport are excited to support her next steps at UConn and beyond."
Upon graduation, Jenna said that she hopes to be working in either a first or third grade classroom or as a fifth or sixth grade math teacher. She said that ultimately, she hopes to find a school that is diverse and that encourages students to raise the bar every day.
Jenna mentioned that during her freshman year, she would have never expected to hold the Jumpstart coordinator position, or even serve as a volunteer coordinator as she did last year.
"I think when you're passionate about a topic, and a program, you truly do give your everything and you love every minute of it," she said. "That's how Jumpstart makes me feel."