RECENT ALUMNI & STUDENT NEWS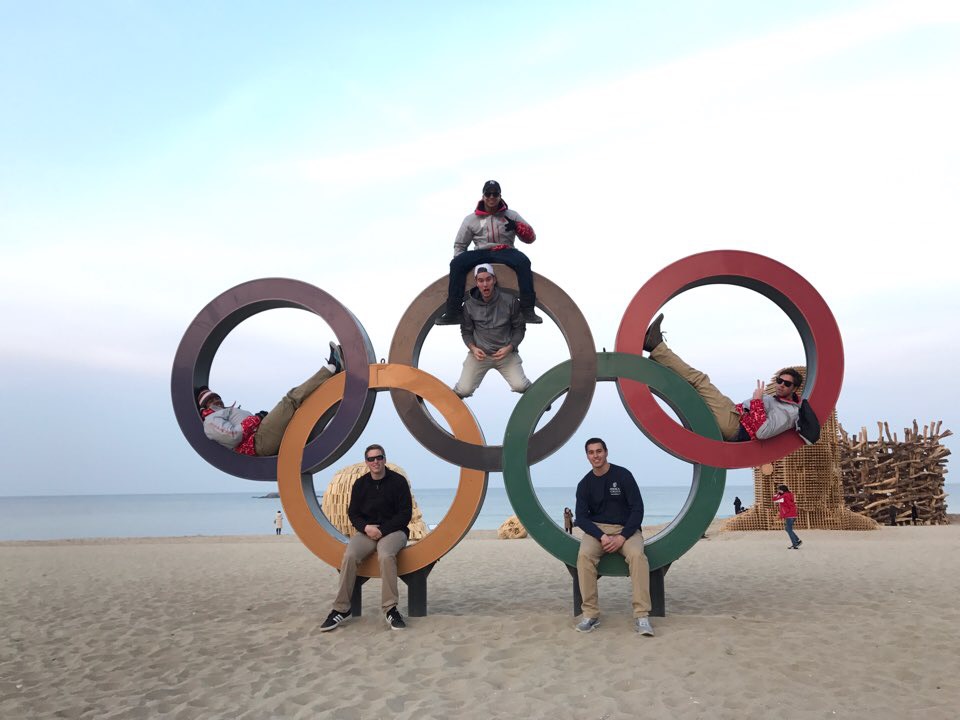 Associate Sport Management professor at Ithaca College, Dr. Rachel Madsen, had a very exciting opportunity this past February to travel to Pyeongchang, South Korea and volunteer at the 2018 Winter Olympics.
Madsen, a 2010 graduate from the Sport Management and Women Studies doctoral programs, spent over two weeks in South Korea with 20 Ithaca College School of Business Sport Management students.
During her first ever Olympics, Madsen and her team worked specifically with the event operations department in seven different competition venues, interacting with fans, athletes and coaches to provide customer service.
She and three of her students volunteered in the skating rink that housed figure skating and short track speed skating. Because those are two of the most popular events in the Olympics, they are typically scheduled to air live during U.S. prime time, meaning very early mornings for Rachel and her team.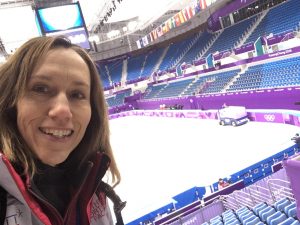 "Many days for us required waking up at 4:30 a.m. to catch a 5:15 a.m. bus to the skating rink. From 7:00 a.m. to 4:00 p.m., we managed the fans and other visitors to ensure that everyone had a positive experience while also staying safe and not interfering with the athletes," she said.
When asked about one of the greatest experiences that she had during her trip, Rachel said it's too hard to narrow it down to just one.
"We often came face to face with famous athletes and other VIP's, such as IOC members and the Today Show hosts. We were able to attend history-making events as fans, which was a dream come true. The Korean Olympic Committee often provided free tickets for volunteers to attend events, as long as the event wasn't sold out," she said. "Additionally, as Americans, we were often treated like celebrities by Korean fans and volunteers. Many Korean fans asked us where we were from and when we said New York, they often wanted to take pictures with us."
Though Rachel spent only 17 days in South Korea, her students were lucky enough to spend five weeks assisting at the games. In doing so, they were able to take part in a monumental worldwide event and appreciate the importance of embracing culture and diversity.
"The students really learned what it takes to put on an event of this size. When watching the Olympics on TV, it's impossible to understand the incredibly complicated logistics of organizing, training, transporting, housing, feeding and motivating 20,000 volunteers," she said. "Being part of a large volunteer staff also enabled them to interact and become friends with other volunteers from all around the world."
RECENT FACULTY & STAFF NEWS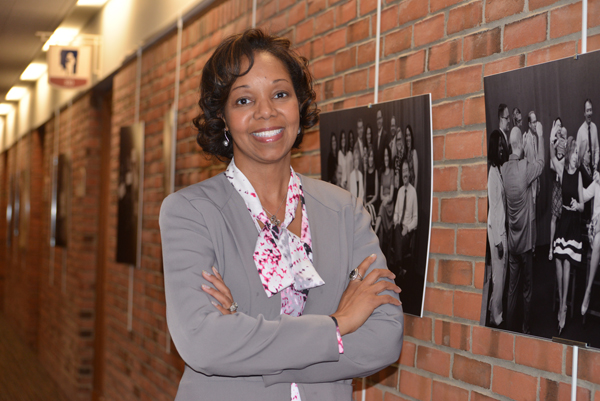 This Spring, a former Ed.D. student, Roszena Haskins ('17) will begin facilitating the third and final module of the 2017-18 PreK-3 Leadership Program at the University of Connecticut. The module titled, Leading for Equity, Excellence and Early Success, covers a variety of topics with the ultimate goal of preparing educators to build a school culture led by caring, competent, and well rounded leaders.
Like all the facilitators who join the PreK-3 Leadership Program team, Haskins is an expert in her field. She has over 20 years of experience as an educator and a strong passion for equity and diversity. Currently serving as the West Hartford Director of Adult and Continuing Education and the district's Director of Diversity Advancement, Haskins works with other members of West Hartford Public School's Equity and Diversity Council to strengthen the cultural competence of the district and advance institutional equity. Her multiple roles in district-wide early education and diversity initiatives require her to stay up-to-date on ever-changing federal, state, and local policy changes. This expertise coupled with a commitment to the children, caregivers, and community has prepared Haskins for her upcoming role as an instructor with the PreK-3 Leadership Program.
Haskins is excited to share her experiences as she explains, "Navigation across agencies, organizations, and constituents is something I enjoy personally and professionally and hope to contribute to the PreK-3 Leadership Program."
In addition to her direct experience in the field, Haskins is an accomplished researcher. Her doctoral dissertation for the University of Connecticut's Ed.D. program focused on Black and Latino students disproportionately leaving college without a degree as a result of low access to college-level courses and extended time spent completing developmental education requirements. She bridges her research and the importance of initiatives like the PreK-3 Leadership program by explaining,
"Longitudinal research shows that investing in high quality early education programs, leveraged by highly competent, knowledgeable and skillful leaders promotes post-secondary success and improved life changes as adults."
Haskins looks forward to working with other state leaders, as well as the Expert Advisory Panel, who are passionate about early childhood development and inclusion. She stated, "I continue to be eager to contribute to building the leadership capacity of committed educators through an equity-focused lens."
The PreK-3 Leadership Program is thrilled to Dr. Haskins on board, as Program Director Dr. Karen List describes her as "very hard working," with a "strong background in diversity and PK-12 leadership," Dr. List adds,
"She genuinely connects with people. The importance of relationships is evident in her style."
The Neag School outlines upcoming AERA Annual Meeting presenters and EDLR is well represented.
National Education Policy Center (The UCLA Civil Rights Project held a policy briefing at the U.S. Senate on March 5th regarding vouchers, which included a presentation by EDLR's Preston Green)
NPR. (EDLR's Richard Schwab along with current IB/M student Emily Cipriano '17 (ED), '18 MA and faculty Rene Roselle interviewed by NPR about the call to arm teachers in the wake of the school shooting in Parkland, Fla.)
Education Week (EDLR's Shaun Dougherty weighs in on the U.S. Secretary of Education's first year, as it relates to career and technical education)
Student, Jenna Stone, and staff member, Patricia Bellamy, were recently awarded for their excellence in Public Engagement.
Download Awardee Profiles