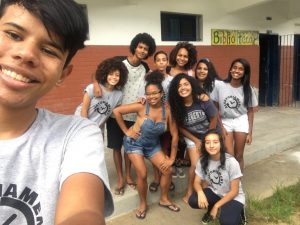 Pauline Batista is a first year doctoral student in the Learning, Leadership and Education Policy program in the Department of Educational Leadership. Her current work goes beyond country borders while challenging the traditional approach to research, as she incorporates film directed by student responses into her final product.
Batista's research focuses on the United Nations Educational, Scientific and Cultural Organization (UNESCO)'s power over Educational Policy & Curriculum in Latin American (Traditional) Communities that have obtained UNESCO's Heritage Site titles.  The methodology for this data collection draws from yPAR (Youth Participatory Research) and other participatory research methodologies, in which the objective is to center students as co-researchers during the data collection process. In this way she is empowering students in this community to speak out about their educational experiences and capture the attention of policymakers through film and digital media.
Batista has recently returned from a self-funded, pre-research trip in Brazil where she established connections and gathered information for the basis of her research. She will be returning to South America this summer to design a Participatory Video Initiative at previously selected schools, with the help of El Instituto's Predoctoral Fellowship and the Tinker  Fellowship. This Participatory Video initiative will entail a two week-long filmmaking workshop in which student-learners will be offered basic film  making lessons, discuss what they believe are relevant issues for their communities by engaging in various activities, and gain experience by documenting key concepts, directly from the field. Rooted in Paulo Freire's participatory action framework, the goal of this initiative is to capture the attention of local policymakers by showcasing the students' ideas and critiques of their schoolwork under UNESCO's influence, using short films.
This trip will include schools in Cartagena, Colombia and Paraty, Brazil where Batista is originally from. Batista is humbled and motivated by the opportunity for her work to impact her own community as she explains,
"It is rather different when you go back to your community as a scholar with a purpose. I had to be very careful and very open to hear from the community, because I believe that this is part of my duty as I was given the privilege of being educated."  
During her initial trip this past winter, Batista met with students who, in her words, "run schools." These students had a mature understanding of the oppression the education system possesses and how the system was not designed for them. This perspective fostered incredible conversations with the students' ideas surrounding what their education should look like. "I have been learning that schooling demands are changing, but oppression remains, therefore as educators our work must serve as a medium of expression for these communities," explains Batista on her takeaways thus far from this unique research endeavor.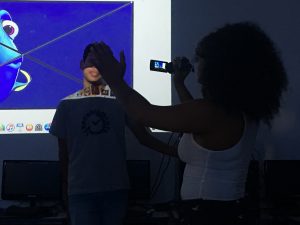 Batista's passion was ignited during her studies at the University of Connecticut's El Instituto where she achieved an M.A. in International Studies (Latino & Latin American Studies). The theoretical body of work that she was exposed to during her studies motivated her to become an educational advocate for her own community as well as others in South America. For this reason, she decided to focus her research on communities with Educational Policies that are not necessarily reflective of the communities' desires and needs as she entered the Learning, Leadership and Educational Policy Program at the University of Connecticut.
Batista currently studies under Dr. Erica Fernández and Dr. Kimberly LeChasseur serves as her Graduate Assistantship manager. She thanks EDLR's incredible faculty for introducing her to new ideas and perspectives, which have broadened her perception of the world and how the educational model of the U.S. has been influencing Latin American communities. The knowledge she is continuously building in her work with EDLR mentors drives Batista, and she is honored to share that with the communities she is working in.
Batista plans on traveling to Brazil on July 17, 2018 and to Colombia on August 1, 2018 to host the Participatory Video Initiatives for students. The Department of Educational Leadership looks forward to watching Batista's research develop further and for the premier of the films on Vimeo when the project is complete. This is only the beginning of Batista's journey and she hopes to expand her research efforts so that it is applicable and relevant to communities across South America.
---