Two representatives fr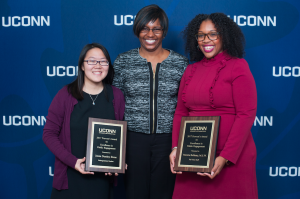 om the Neag School of Education at UConn, Patricia Bellamy and Jenna Stone, were awarded the 2017 Provost's Award for Excellence in Public Engagement. The reception for the award winners was held on Nov. 14 to recognize these individuals for their exceptional dedication and significant contributions.
Patricia Bellamy, Assistant Director for Programs and Partnerships for Husky Sport, recently received the 2017 Provost's Award for Excellence in Public Engagement in a full-time staff position.
Patti began volunteering for Husky Sport, a program established through the Department of Educational Leadership in the Neag School of Education, during her undergraduate career in 2009. She said that her initial passion for working with Husky Sport, and the relationships that she built in doing so, ultimately led her to switch her career focus and pursue a Master's Degree in social work.
In working with students similar to and different from her, Patti learned that to truly connect with someone, one must be willing to understand where and who they are, without forgetting about his or her personal experience.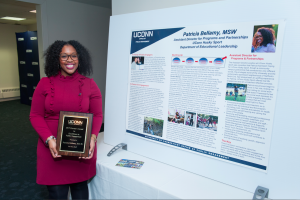 "Meeting people where they are is a social work term that I think more and more industries are grasping, but it's understanding where people are, learning from them, not trying to be the expert of their career paths and their history, just letting people lead, listening and understanding from that and growing from that," Patti said.
After receiving the award, Patti said that she was so proud that her experiences are being recognized, especially because she is normally shy when it comes to sharing her own accomplishments.
"I smiled like crazy but I couldn't believe it, it seriously had not even been on my mind," she said.
Justin Evanovich, Managing Director of Husky Sport, said that the people and partners of Husky Sport benefit greatly from Patricia's sustained leadership, caring support and positive energy.
"She shines in this work through both her ability to foster meaningful relationships, and her facilitation of effective systems in collaborative partnerships," he said. "Patricia continues to positively empower others as part of her impactful leadership throughout all facets of Husky Sport."
When asked about where she would like to see herself working in the future, Patti said that a few years ago she might have said that she would like to have her own program but Husky Sport seems to have changed that path for her.
"Everything for me starts with an experience, a relationship and connections, building connections with people and I don't want just anything, I want to really enjoy it," she said. "The next thing is going to have to be ten times more awesome, twenty times more awesome, for me to even consider."
Jenna Stone, a senior Elementary Education major in the Neag School of Education, was awarded the 2017 Provost's Award for Excellence in Public Engagement as an undergraduate student.
Jenna currently serves as the coordinator for Jumpstart within Community Outreach, but has volunteered with the program since her freshman year at UConn. One of her primary focuses in this position is to decrease the achievement gap in early childhood education while acting as a liaison between team leaders and student leaders in Community Outreach.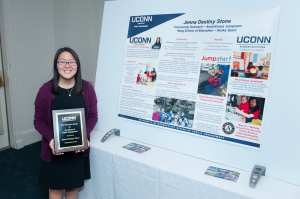 Jenna has learned while working with Jumpstart that she can act as a leader not only for preschool students, but for college students as well. After receiving the award this year, she said that she was more excited to share her experiences than to receive the recognition.
"Any time I get to share about the programs I'm involved with, I get excited," Jenna said. "Service isn't about the need to be recognized, but when you are it puts a big smile on your face."
Not only is Jenna involved with Jumpstart, but she also serves as a volunteer for Husky Sport. Justin Evanovich said that Jenna possesses an extreme work ethic and a mature approach to managing her many endeavors.
"I've been fortunate to learn from Jenna about her work with Jumpstart, as well as her peer-and-programmatic leadership roles with Husky Sport, the Office of Community Outreach and the IB/M Neag Teacher Prep Program, to name only a few," he said. "In her everyday life, Jenna impacts many as an active citizen. We at Husky Sport are excited to support her next steps at UConn and beyond."
Upon graduation, Jenna said that she hopes to be working in either a first or third grade classroom or as a fifth or sixth grade math teacher. She said that ultimately, she hopes to find a school that is diverse and that encourages students to raise the bar every day.
Jenna mentioned that during her freshman year, she would have never expected to hold the Jumpstart coordinator position, or even serve as a volunteer coordinator as she did last year.
"I think when you're passionate about a topic, and a program, you truly do give your everything and you love every minute of it," she said. "That's how Jumpstart makes me feel."