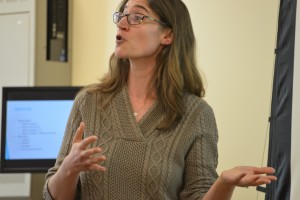 Assistant Professor, Dr. Sarah Woulfin was a panelist on the Portraits of Qualitative Research brownbag discussion on February 19th.  She spoke about her successes and challenges in collecting and analyzing qualitative data on reading coaches' activities in promoting reform within an urban school district.  She also shared ideas for rigorous qualitative data analysis using excel to tabulate data from qualitative coding reports.
The panel also included Dr. Joe Abramo and Dr. Suzanne Wilson; Dr. Rachael Gabriel served as the discussant.  The brownbag session discussed research involving qualitative analyses of data.  Faculty, staff, and doctoral students from across departments attended.
The brownbag event was hosted by the Neag School of Education, Qualitative Methods Committee.