One of the Husky Sport program's strengths is its relationships, and from that, its partnerships. Since the program's inception in 2003, it has been dedicated to maintaining community and campus partnerships to support youth and college student development. This past semester has been full of collaborative initiatives for Husky Sport including their partnerships with Fred D. Wish School,  where they participate in direct engagement with Hartford North End youth, and UConn's Leadership In Diversity (LID) program for the 2018 Ignite Campaign. Husky Sport also partnered with UConn's Young Southeast Asian Leaders Initiative (YSEALI) and local volunteers from ESPN to provide additional engagement to the youth of Fred D. Wish School.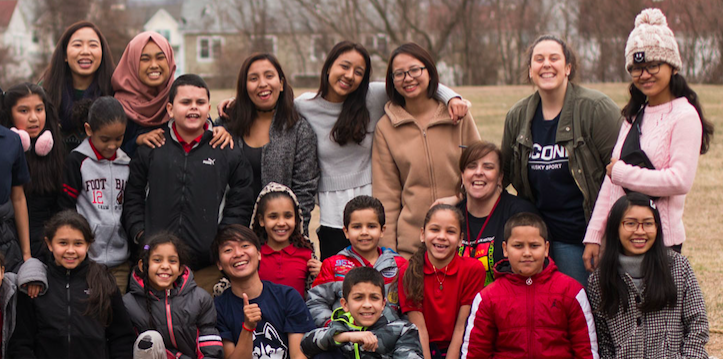 YSEALI is a grant-funded initiative started by the U.S. Department of State in 2013, which aims to support the leadership development of youth from Southeast Asia. Currently supported by the State Department's Bureau of Educational and Cultural Affairs, approximately 40,000 individuals participate in the student exchange program each year. The Global Training & Development Institute (GTDI), which facilitates UConn's  YSEALI program, gives students an opportunity to identify and develop a business plan for an issue in their home community or country that they are passionate about finding a solution for. Upon returning to their home country, they receive feedback and mentorship from the UConn program, and have the chance to apply for financial support for their social initiative.
Husky Sport helped facilitate YSEALI's mission as they served as a host organization for YSEALI students and introduced them to the Fred D. Wish School in Hartford, CT, one of Husky Sport's community partners. This is the fourth year that Husky Sport has hosted this event where YSEALI volunteers pair up with Husky Sport mentors for a day of learning and engagement with elementary students through physical activity. This year, YSEALI students participated in  a 30-minute information session about the organizational history of Husky Sport and their partnership within the Hartford North End community. YSEALI and Husky Sport program leaders then worked together to lead 3 dynamic sessions outdoors with Wish School's fourth grade students. These sessions were centered around physical activity and nutrition, two of the Husky Sport program pillars. Both Wish School and YSEALI students then participated in a series of games and challenges that incorporated themes such as the USDA guided MyPlate and physical literacy. The day concluded with a debrief session which invited volunteers to ask questions and reflect on the experience.
"For most of the YSEALI students, volunteering with Husky Sport is their only opportunity to see the American school system up close as well as interact with youth during the 5-weeks here in the United States. During their time with Husky Sport, the participants learn valuable information that may help them start their own non-profits in their home countries when they return," explains Cassandra Therriault, Husky Sport Graduate Assistant and YSEALI Program Staff Member on the takeaways for YSEALI participants.
However, this unique opportunity not only benefits YSEALI students, but it offers a one-of-a-kind experience for the elementary school students at Husky Sport's community partner school. Therriault adds, "Each time the YSEALI students come to the school they share about their home country and their experiences in elementary school, which provides a great opportunity for our Wish students to ask questions and learn about places around the world!"
While the partnership with YSEALI allowed Husky Sport to collaborate with volunteers from around the globe, the ESPN partnership engaged more local volunteers. Four volunteers from ESPN's Library Committee out of Bristol, CT joined Husky Sport for a day of engaging literacy, nutrition, and physical activity with K-2 students from the Fred D. Wish Elementary School. The day was organized into different stations including, reading a children's book, a physically interactive game focused on hand-eye coordination, and an activity centered around  Wish School's life skill theme: Be There, Be Ready!
The partnership with ESPN developed through an alumni connection, Leigh Michaud, who earned her M.S. in Sport Management in 2012, and now works in Remote Production Operations for ESPN. Having worked with Husky Sport throughout her time at UConn, Michaud thought it was the perfect place for her ESPN Library committee to volunteer. Since, they have been volunteering with Husky Sport for the past five years.
As many members of the ESPN Library Committee, including Michaud, return every year, volunteers are able to connect with students that they saw in previous years, promoting and facilitating Husky Sport's commitment to relationships. This connection and association with fun memories from the previous year(s) always means something special for both the ESPN volunteers, Husky Sport and the Wish School students.
Assistant Director of Husky Sport, Patricia Bellamy reflected on the significance of the experience as she remarked,
"It's always great when our ESPN volunteers are here! We get to further divide and engage our students for multiple activities but they [ESPN volunteers] also get to feel how exciting it is to work with our Wish Students. Having the adults that you see everyday telling you that reading is important is one thing, but when people who have the 'cool jobs' come and tell our students, it's a big deal."
Partnerships with programs and organizations like YSEALI and ESPN are not only important to the collegians participating in Husky Sport, but they offer a rewarding experience for the ESPN volunteers, help build YSEALI participants leadership development, and work cohesively to help engage and inspire local youth in Hartford.
The Department of Educational Leadership appreciates Husky Sport's intentional relationship building with various partners around the world and throughout Connecticut. Their continued dedication to these partnerships lends itself to meaningful and reciprocal learning experiences for those involved.
---