In Higher Education, it is not uncommon for students to balance their studies with a full or part-time job. Many students enrolled in the programs of the University of Connecticut's Department of Educational Leadership (EDLR) are not only students, but working professionals in the field. The "Student-Professionals" series highlights these hard-working student-professionals and how they balance their responsibilities. This feature focuses on a student-professional in the Ed.D. program.
For Diana Kelley, a student in the Department of Educational Leadership's Ed.D. program, balance is key: in addition to her studies, she works as the Director of Special Education for Glastonbury Public Schools.
Kelley's path in the field of special education began when she was a busy stay-at-home mother. As her children started to get a little older, she was ready to rejoin the workforce and decided to go back to school to become a paralegal. At the same time, she got a job as a special education paraprofessional. She found that she greatly enjoyed working with children in a professional setting and was particularly interested in special education. Education, she realized, might be the right career for her. As a result she stopped her paralegal studies and transferred to Central Connecticut State University (CCSU) to complete her teaching degree.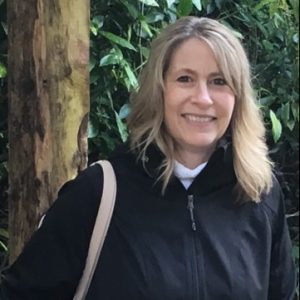 Managing the multiple and often competing demands of work, school, and family was a challenge as she completed her degree. "I would take my schoolwork to my kids' sports games," remembers Kelley. Upon successfully completing her bachelor's degree, she started working as a special education teacher at Gideon Welles School in Glastonbury, CT. In that position, she also took on numerous building-level leadership roles, including serving as a team leader and serving on the Teacher Administration Liaison Committee. Her interest in leadership led her back to CCSU to complete a master's degree and then to Sacred Heart University to earn an administrative certificate. When the opportunity arose, Kelley took a position as Special Education Supervisor at Glastonbury High School. When the Director of Special Education position for Glastonbury Public Schools opened up several years later, Kelley applied, and she has been in that role ever since.
For Kelley, the decision to pursue an Ed.D. was multifaceted. "I like being in school; learning about the most current practices and research is very helpful in my career," she says, adding that earning a doctorate has always been a personal goal as well.
She chose UConn's Ed.D. program for its proximity, affordability, and cohort model, which she says is very important to her. "The cohort is very supportive; it helps everyone stay connected and hold each other accountable," she says. "And from a networking standpoint, it's wonderful to get to know people and understand where they're coming from."
At this point in the program, Kelley's research largely focuses on teachers' beliefs and attitudes about students with disabilities, and she intends for her research to have real-world impact. "I want to find out things that will help guide me and my staff in terms of best practices to support students and teachers," she says. "The growth mindset is important to me: believing that all students can learn."
Being a student-professional can certainly be a challenge, says Kelley. Her job is demanding and she is sometimes exhausted by the time she gets home at the end of the day, which makes hitting the books for her program difficult.
While it can be difficult at times, Kelley says being a student-professional is also uniquely rewarding. "I like being able to relate what's said in class back to my job," she says. "It helps me keep my practice current and relevant, and it helps me provide useful professional development for my staff." Plus, Kelley adds, the busyness of her schedule actually helps her appreciate the calmer moments. "Sometimes it makes me appreciate being in the moment more."
"Balance and prioritization is key," says Kelley. "My advice is to stick to a schedule and have some structure. I try to get my schoolwork done on weekends and one night a week. And it's so important to carve out time for yourself: some time to go to the gym, whatever it might be. Sometimes I just take one night and say 'I'm not going to not think about school or work tonight.'"
---