In Higher Education, it is not uncommon for students to balance their studies with a full- or part-time job. Many students enrolled in the program of the University of Connecticut's Department of Educational Leadership (EDLR) are not only students, but working professionals in the field. The "Student-Professionals" series will highlight these hard-working student-professionals and how they balance their responsibilities. This feature focuses on a student-professional in the LLEP Program.
Ngozi Taffe, Director of the Project Management Office in ITS, is working to complete her doctorate in UConn's Learning, Leadership, and Educational Policy (LLEP) Ph.d. Program. Taffe, who earned a BS in Information Technology and an MBA both from UConn, has returned, after working for 15 years in the corporate world, to implement and support new projects at UConn.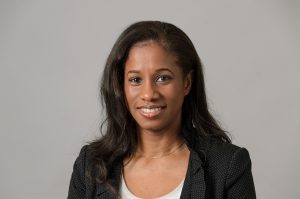 Formerly the Director of Financial Systems at UConn, Taffe's role evolved to Director of Project Management about a year ago. While the implementation of policy and software has stayed the same, Taffe works to solve more complex issues within the educational arena and change technology for the better to keep up with evolving policies. In her doctoral program, Taffe specializes in studying college persistence within minority populations and addresses the "element of grit that comes to both areas." Essentially, she's interested in building software for people while researching about people.
By connecting her research interests to real-life experiences, she is learning "to listen to people express experiences in voice, research factors, and other successes, and capitalize and create a roadmap on those successes." A road that leads Taffe towards understanding and solving bigger societal issues.
While Taffe's work is "very rewarding," balancing school, work, and family obligations continue to be a "juggling act." On top of being a student-professional, Taffe is both a spouse and a parent and works to fill both shoes while also accomplishing her own personal goals. Taffe does admit though that this kind of lifestyle is not for everybody, but being the continuous learner that she is, she loves to engage in critical research and push her intellectual boundaries. She states, "the benefit of what you're doing is what drives you."
"As an adult learner, with several levels of responsibility, there's a benefit of working and going to school."
With Neag's flexibility in providing classes after business hours, Taffe encourages students to take advantage of the available opportunities to gain professional experience while advancing your education. By aligning your work with your academics, with some level of overlap, you learn to make necessary trade-offs which can deepen your level of understanding while pushing you to achieve your long-term goals.
Taffe's recommendation for other students looking to become student-professionals is to surround yourselves with supportive advisors who understand and appreciate the challenges you're going through; align yourself with a support/peer group that shares similar interests and goals. As Casey Cobb, her advisor comments,
"She has found a way not only to balance work, life, and student demands, but also found interconnections among all those areas."