In Higher Education, it is not uncommon for students to balance their studies with a full- or part-time job. Many students enrolled in the programs of the University of Connecticut's Department of Educational Leadership (EDLR) are not only students, but working professionals in the field. The "Student-Professionals" series will highlight these hard-working student-professionals and how they balance their responsibilities. This feature focuses on a student-professional in the SPM program.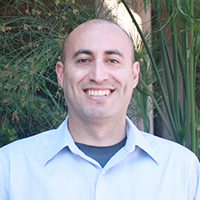 Miguel Colón, a student in the Sport Management master's program at the University of Connecticut, works hard to maintain an academic and professional career as both a full-time student and the Interim Associate Director for UConn Community Outreach.
Colón says he never expected to go to school for Sport Management, but ever since he was a little kid he always had a great affinity for sports. Now, close to completing a master's degree and having worked closely with Community Outreach's 14 youth development and education programs and the student leaders in those programs for the past 11 years, Colón wouldn't have it any other way.
As both a student and the new Interim Associate Director for Community Outreach, Colón is faced with challenges every day. Nevertheless, he strives to create a positive environment in every aspect of his academic and professional life. A big sports fan, Colón understands the social implications of physical exercise and applies this knowledge to his daily life – both within and outside of the office.
He sees sport as a vehicle for both personal and social change; as he puts it, "sports reflect society".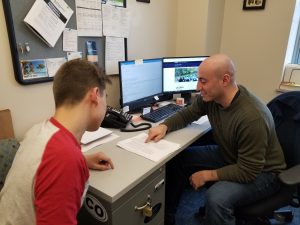 A first-generation college student, Colón was well-acquainted with facing challenges and overcoming obstacles long before he began his higher education path. He migrated to the mainland US from Puerto Rico at the age of 14, and says that navigating a new bureaucracy, seeking out help and support, and finding mentors who could guide and direct him were just a few of the challenges of joining a new educational system. In his feature with WNPR, Colón shares more details about his experience as a first-generation college student.
Because of his unique background, Colón says he views college in a way that's different from most. Although it was difficult at times, he says he enjoyed going through the experience. The most rewarding aspect of his sometimes-demanding lifestyle, he says, is seeing how he's able to trailblaze through thick and thin. The ability to acknowledge what you have been able to accomplish, he notes, is vital to moving forward in your life.
As a student-professional, Colón appreciates the time he spends working with people and communicating with students, colleagues, and professors. Communication is vital to his area of study, he says, and using and honing these skills not only benefits him in the classroom but also in his personal and professional spheres.
To other student-professionals, Colón emphasizes the importance of having a strong support network of faculty advisors, such as Drs. Burton and Cooper, who strive to put their students' happiness and well-being before anything else. Even in times of crisis, as in the wake of Hurricane Maria which devastated his family in Puerto Rico, Colón knew he had several shoulders to lean on. But, at the end of the day, Colón admits that self-motivation is huge. Especially in a fast-paced work environment, Colón says committing to a task and following through is crucial; it's one of the biggest pieces of advice he can offer. "Once I'm ready to do something," says Colón, "I really act on it."