UConn's Department of Educational Leadership (EDLR) offers a rich and diverse curriculum that prepares both undergraduate and graduate students to be educational leaders in our ever-changing world. The "Courses and Curriculum" series highlights innovative courses within EDLR's catalog that are changing the education game for the better.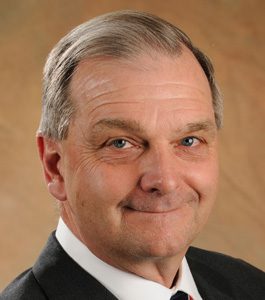 In EDLR 5015: Teacher Leadership and Organizations, finding your voice is the name of the game. The course, which is designed to prepare future teachers to become effective leaders within their schools, has been taught by a host of talented professors over the year, each of whom brings their unique skills to the curriculum. In recent years, Dr. Richard Schwab–Professor in the Department of Educational Leadership (EDLR), former Dean of the Neag School of Education, and UConn alumnus–has brought his extensive background in teacher education to the course and it has taken off.
The course is made up of many innovative components, including guest speakers from a range of professional areas who come to share their expertise. Recent speakers have included Dr. Alan Addley, Superintendent of Granby Public Schools and Connecticut's Superintendent of the Year in 2019, and Alicia Bowman, who was named National Distinguished Principal of the Year by the National Association of Elementary School Principals in 2015– both are Neag alumni. "One of my favorite parts of this course was getting to learn from so many leaders from across Connecticut," says Emily Cipriano, an EDLR alumna who credits a class visit by Nate Quesnel, Superintendent of East Hartford Public Schools, with finding her "dream job" teaching in the East Hartford school system herself.
The course also emphasizes leadership in the area of Family School Community Engagement (FCSE). "We talk about valuing all families: rich or poor, from all sorts of home life situations. All families want and are entitled to a meaningful education for their children," says Schwab.
One course component in particular has garnered a lot of attention recently– including at the national level. As part of Schwab's contract-based grading system, students are given the option of completing one of several projects in order to earn an A in the class. One of the possible projects is to complete an op-ed on an educational topic of the student's choosing.
"The goal is for students to understand their voice," says Schwab. "If you're going to be a teacher leader, you need to have the courage to say: this is what I believe in."
While publication is not a requirement of the project, this year alone Schwab has seen four of his students publish their op-eds: Emily Cipriano, Taylor Hudak, Julia Pilarski, and Olivia Singer have each used their voices to publish op-eds on topics ranging from teacher certification to how to teach in times of violence and political upheaval. Cipriano's piece even reached national ears: not long after it was published, she appeared on NPR's All Things Considered along with Dr. Schwab to talk about the impact of school shootings on the teaching profession.
Beyond the excitement of publication, writing op-eds is an instructive process. "Writing about a topic that is both a passion of mine and a critical issue in education helped me develop a sense of teacher leadership," says Julia Pilarski. For Taylor Hudak, who describes herself as "a very reluctant writer," the op-ed project was doubly empowering: "I definitely see myself writing more op-eds in the future, which is something I would never have thought before taking this course."
"I felt like my voice was being heard, like it could actually make a difference," says Olivia Singer.
So how does one write an op-ed? "I say to my students: start with your heart," says Schwab, who has published numerous op-eds himself. "Only write what you're passionate about. And no one gets it right on the first try! Editing, learning to express yourself concisely– that's all part of the learning process." Most students start with around 3000 words and have to hone that down to around 650, explains Schwab. For this process he brings in Stefanie Dion Jones, Director of Communications for Neag, as an expert coach for the students. "She's wonderful at showing students how to put themselves out there, how to work with feedback," says Schwab.
"Some students come in thinking they don't have anything to offer," says Schwab. "I couldn't disagree more: I think these students have a great deal to offer." And the impact of the op-eds goes beyond individual development and can effect broader social change: "Legislators read these!" he says.
Dr. Schwab's comprehensive and innovative approach to teacher education is integral to Neag's mission to prepare the next generation of educators to be leaders in our ever-changing world.
---