UConn's Department of Educational Leadership (EDLR) offers a rich and diverse curriculum that prepares both undergraduate and graduate students to be educational leaders in our ever-changing world. The "Courses and Curriculum" series highlights innovative courses within EDLR's catalog that are changing the education game for the better.
In EDLR 3345: Financial Management in the Sport Industry, taught by Professor Laura Burton, Ph.D., is an undergraduate course which provides Sport Management majors with an understanding of the financial principles relevant to the sport industry. The course examines basic financial concepts and issues related to sport, and offers an overview of ownership, taxation, financial analysis, feasibility and economic impact studies within the sport industry.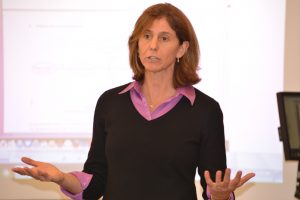 Burton identified a need for this content and added the course to the curriculum, five years ago.  While Burton's research is centered around leadership in sport organizations and gender issues in sport, EDLR 3345 pushed her outside of her traditional area of expertise, offering a great opportunity and challenge. Having an applied math-based course helps to answer real-world questions within the sport industry, one that the students are benefiting from.
As sport organizations attempt to create a more inclusive space, in regards to social and gender identity, people in higher level positions are faced with some important questions. In what ways can professional sport organizations maximize revenue? And who benefits? What communities are disadvantaged? Burton explains how not only do students consider the financial impact of budget cuts within the sport industry, for example, but the social impact as well. Such a fundamental course provides students with the tools to build on their understanding of budgets and further develop these ideas in other related and unrelated fields.
By using practical applications and case studies, Burton is able to create real-life scenarios depicting real-life budgeting dilemmas. In one such budgeting case, Burton presents a $40,000 budget cut and challenges her students to make the cut in the most effective manner. The experiment suggests that such a cut would leave athletes without scholarships, slash salaries, and limit job availability.  
One of the biggest challenges Burton says especially with a course that is math-related is helping students get over the "math-hating mentality." Burton admits that there was a lot that she had to learn and continues to learn alongside her students. Within education, it's easy to experience feelings of frustration and anxiety when learning something new, but she continues to push herself and her students and says,
"Sometimes we forget what it feels like to be the student and sit in the seat."