Editor's Note: This story, written by Neag School's Stefanie Dion-Jones, originally appeared on the Neag School's website.
In our recurring 10 Questions series, the Neag School catches up with students, alumni, faculty, and others throughout the year to give you a glimpse into their Neag School experience and their current career, research, or community activities.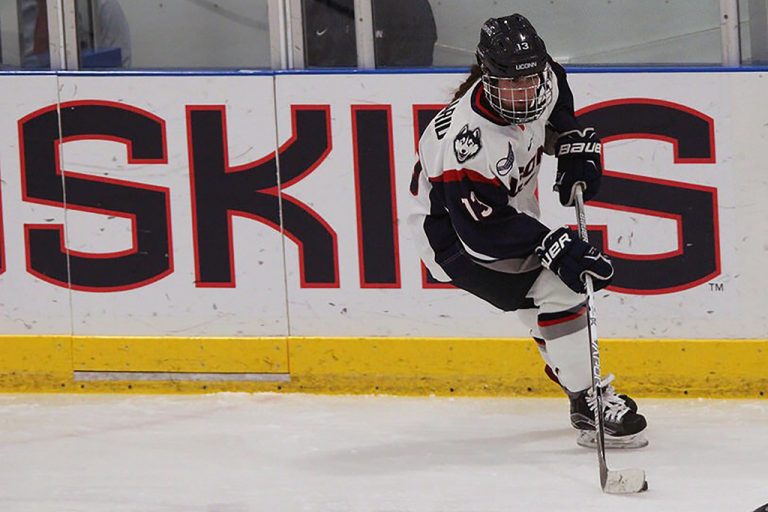 UConn women's ice hockey forward Marisa Maccario '18 (ED), a native of Marblehead, Mass., has been playing on a hockey team since the age of 5. Currently a sport management major in the Neag School, Maccario created a video this past fall for what she describes as her favorite class at UConn: Sport in Society, led by assistant professor Joseph Cooper. The video she co-produced has since been featured on youcanplayproject.org, an initiative dedicated to ensuring equality, respect, and safety for all those who participate in sports, regardless of sexual orientation and/or gender identity. Here, Maccario talks about her experience as a student-athlete, about the video project, and more.
What kind of time commitment does the ice hockey training and traveling schedule demand? How do you balance that with coursework and free time? The ice hockey season sits between both the fall and spring semesters, so our school year is very busy. We get started within the very first weeks of school and go all the way until March. We are on campus training over Thanksgiving, most of Christmas break, and sometimes spring break.
Once classes start back up, most of our team manages time very well with classes in the morning, a break in the afternoon for hockey, and classes at night. Mostly after classes is when we have study hall, tutors, and time to get all of our work done for the weeks ahead. The good part about the league we are in (Hockey East) is that all the schools are relatively close (for example, Boston College, Boston University, Northeastern, Providence, University of Vermont, and University of Maine). Seeing that we play schools that are close by, we are able to do day trips and do not have to travel Thursday through Sunday. Instead, we do day trips, which in turn helps our study schedule.
"Never use a busy schedule as an excuse. You can always make time to do something you love. Here at UConn, they give the option to play a sport you love — and enter into a very competitive program that will help you be successful once your sport it over."
What made you decide to major in sport management? It just felt right. I can never see myself leaving the sports world. Seeing that I have been an athlete my whole life and got the chance to further my athletic commitment into college, once I am done competing, I want to be able to see what goes on behind the scenes — [something] that, typically, athletes don't get a chance to see. I want to be part of someone else's experience, not as a teammate or a competitor.
What about the sport management program at the Neag School have you found most valuable so far? Sport management not only is in a field related to sports, but it's also in a school that has an educational leadership program. … Having a sport management program in the same school as educational leadership, for example, shows how leadership is important not only on the field or ice, but also in the classroom.
Tell me about the video project you created for Joseph Cooper's Sport in Society course last semester. The guidelines were very open to whatever you wanted: pictures, PowerPoints, paintings, or videos. You just needed to talk about how society impacts sports and what you have learned throughout the semester.
We decided to put together this video in particular because we thought that not only was it a topic we talked about in class, but also something that impacts athletics at UConn greatly. We are a campus and athletic culture that accepts everyone and anyone for who they are, and not what society tells them to be. Student-athletes need to show their openness in these matters to make sure they and their teammates feel comfortable competing for a school that doesn't care about your gender, race, or sexual orientation. If you can play the sport, that's all that matters!
In your own words, why is inclusiveness in sports so important? With a sport like ice hockey, you have six players on the ice at a time: one in the net and five skaters. To be a team, you need to have skills from each player to win and, with hockey, everyone brings something different. If we didn't have inclusiveness in sports, we wouldn't have teams; we would have individuals playing sports.
The whole point of sports is to win, and with winning comes a group effort. You need to have different abilities with the same goal in mind. You need to be able to have open arms to new people because you never know who will be leading you to a national championship. If you can play, you can play. It shouldn't matter about anything else as long as you want to win.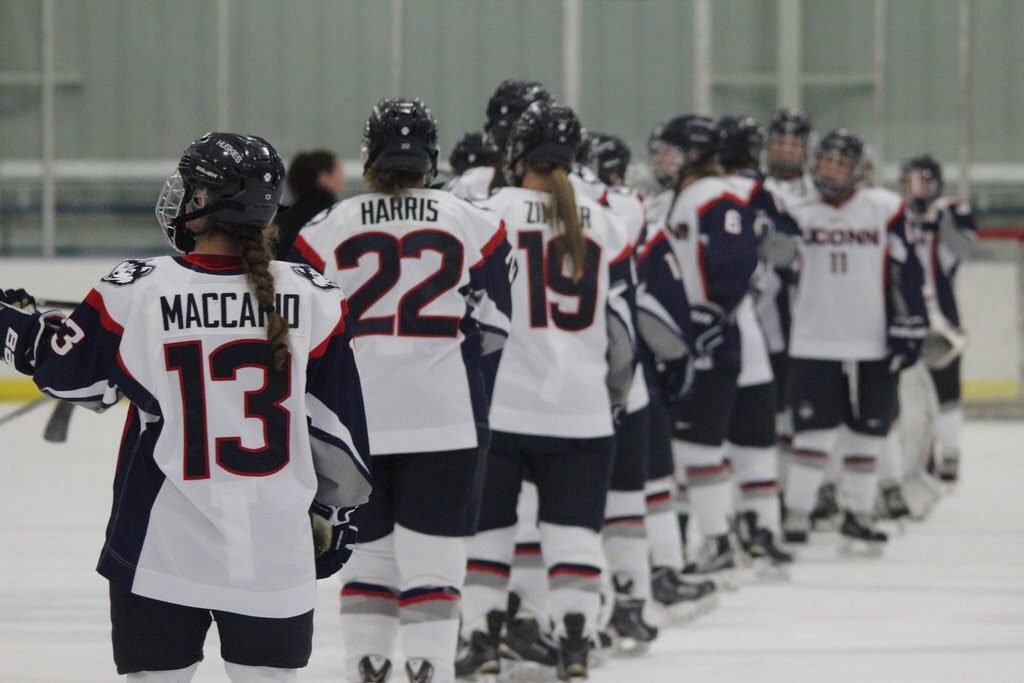 How can coaches and teammates ensure that the team they lead or play on is as inclusive as possible? I think the best attitude that any player or coach can have is to look at work ethic, skills, and technique because that's what makes an athlete an athlete. I believe at UConn we have a lot of student-athletes and coaches that judge off those rules and nothing else. … We bring each other up. Positive attitude and inclusiveness are key especially on our team, because your team is your family away from home. With 500+ athletes at a top university, everyone has to be on the same page and know that discrimination is something that doesn't mix well with a winning culture. So that is left at the door the second you set foot on our campus.
What kind of reaction have you received from those who have seen the video? I have experienced a lot of positive feedback from the video — way more than I thought. I had someone tell me that when they attended the university, an article was released stating that UConn was ranked by the Princeton Review as No. 12 among the 20 most homophobic campuses in the country. Today, we have a video stating that we support our teammates that identify as lesbian, gay, bisexual and transgender. How times have changed — and will continue to change for the better. When doing this video we, the UConn student-athletes, pledged to keep our campus safe for all, and I think that, in itself, has touched a lot of people, both current and alumni student-athletes.
What's your advice for those students who may be interested in checking out either the Neag School's sport management program — or the sport of ice hockey? Never be afraid to do too much. By this I mean: Do everything you want to do and more. Never use a busy schedule as an excuse. You can always make time to do something you love. Here at UConn, they give the option to play a sport you love — and enter into a very competitive program that will help you be successful once your sport it over.
Always ask questions because you never know who you might be talking to and where they can lead you in the future. That's what is great about the sport management program; the professors are great connections for down the road when you're looking for jobs.
What's your favorite spot on campus? My favorite spot on campus would have to be the rink, not only because I spend most of my time there on and off the ice, but also because it is home. The rink is not just for hockey, but a safe place where I can always go when I'm stressed and have a lot of work.
What's something most people don't know about you? I am second-generation Italian- American; my grandmother was a refugee during War World ll and traveled to America.
Read other installments of the Neag School's 10 Questions series here.
---