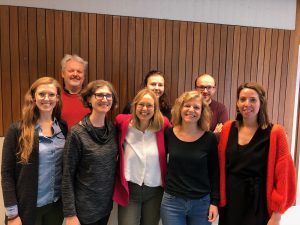 Dr. Sarah Woulfin, Associate Professor in the Department of Educational Leadership, talks about her sabbatical abroad and the relationship between education policy and instruction across the globe.
Q: How did you decide where to spend your first international scholarly visit?
My research on implementation has intersected with that of scholars at Katholieke Universiteit Leuven (KU) Leuven in Belgium for almost 10 years! While in graduate school at UC Berkeley, Virginie März was a doctoral exchange student in my policy implementation research group. She attended KU Leuven, studying with Professor Geert Kelchtermans, a scholar in the area of teacher professionalism and how teachers respond to reform efforts in Belgium. März highly recommended visiting Belgium and Kelchtermans encouraged us to visit KU's campus.
Over time, the three of us have met at American Educational Research Association (AERA) and repeatedly noticed overlap in our scholarly interests, especially our use of institutional theory to study consistency and change in schools. Specifically, Kelchtermans, März , and I use structure agency theory and concepts of micropolitics to study educators' responses to policies.  Based on these interests and connections, we planned my trip.
Q: How long were you abroad and where did you stay?
I spent 12 days in Belgium and was intentionally based in Leuven, to be close to KU Leuven's campus, which was founded in 1425. Leuven, which is about 20 miles away from Brussels is a lovely, fascinating city with cobblestone streets. I greatly appreciated the architecture and public art. I found that Belgium was a nation with great contrasts; that is, medieval buildings plus modern, thoughtful approaches to public transportation and eco-friendly recycling. I enjoyed walking almost everywhere while in Leuven and discovered some excellent coffee shops and local foods, including fries and waffles.
Q: What did you do that related to your research interests?
I had the opportunity to give a lecture, 'The Wild Side: Applying structure-agency theory and micropolitics to understand leaders' enactment of evaluation.' In this talk, I explained key concepts from structure-agency theory and how micropolitics provides new lenses for examining issues of agency. I also discussed major findings from two papers written with UConn's Dr. Morgaen Donaldson and University of Edinburgh's Dr. Sarah Galey. It was necessary to share details on teacher evaluation systems in the U.S. since there are multiple differences in Belgian schools.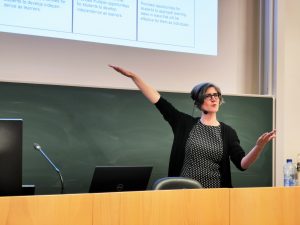 I also presented my work-in-progress on infrastructure to support the enactment of inclusion reform at a research seminar. Faculty, post-docs, and students gave me beneficial feedback on my methods and conceptual framework. They also made interesting comparisons between the U.S. and Flemish education systems.
I had the pleasure of meeting with graduate students in Education at KU Leuven. We had terrific conversations about their use of qualitative methods and how to link their scholarly interests with issues in the U.S. context.
Finally, I observed a masters-level class on Education Policy, which was covering issues of privatization in the education system. It was fascinating to hear about charter school issues from the European vantage point.
Q: What were the key lessons that you took away from this experience?
My biggest takeaway from my time at KU Leuven was that people are people! That is, although there are significant macro-level differences between the US and Flemish education systems, there are shocking similarities in the on-the-ground work and interactions of educators. For instance, novice teachers across settings may worry about how to work with their coach or principal to improve.
I learned that it's important to carefully define many terms, or jargon, in our education research.
I also learned that cultural differences influence several aspects of the research process, including qualitative data collection techniques like interviewing and observing.
Finally, I unearthed some of my taken-for-granted assumptions about schools, education policy, and scholarship - which was both enlightening and humbling.
Q: How do you plan to use this experience to inform your future research?
I plan to continue applying the structure-agency framework in my research and will apply several insights from this visit. I aim to write a paper on engaging in qualitative research across contexts with Dr. März.
Q: Personally, what was your favorite aspect of this experience?
I enjoyed informal conversations with new collaborators and my favorite part was figuring out how to translate terms and phrases into Dutch or English. It was fascinating to reflect on the connotations of different words and phrases that scholars commonly use. In certain cases, there is not a precise way to translate words, so things are lost in translation.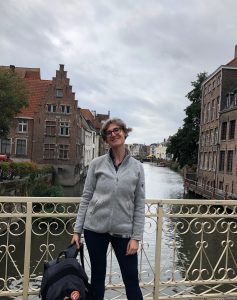 Q: What are your sabbatical goals and how are they coming along?
I feel like I'm making very good progress on several sabbatical goals, though the time is flying by! I was able to do a great deal of reading on organizational learning theory, which helped me better understand district-level change. My current goal is to continue data analysis for one paper on changes over time in a coaching system.
Q: What advice would you give to other faculty interested in a similar experience?
I highly recommend international visits during a sabbatical to notice new things about your work. It was great to engage with people using similar methods and frameworks even if studying different topics, policies, and contexts. I recommend taking the time to absorb different aspects of the University.
Q: What do you want your students and colleagues to know about your experience?
It's refreshing and enriching to work in a very new and different setting. It was rejuvenating, as well as sobering, to carry and present ideas on U.S. education policy implementation. The experience forced me to confront some of the negative aspects of our current approaches to schooling but it also energized me to think about how and why to translate and broadcast elements of my work.  It was a really valuable experience and now I'm noodling about where to go next!
---