The University of Connecticut's Department of Educational Leadership is fortunate to have well-connected alumni who continue to work with the university post-graduation or who have returned after years of work in diverse professional settings. The "Staying in Storrs" series highlights our talented EDLR program alumni and the work they are currently doing with UConn. This feature focuses on the Adult Learning Ph.D. Program.
Dr. Kevin Thompson, Assistant Professor in Residence in the UConn School of Business' Management Department, is no newcomer to the UConn community: he is also an alumnus. He earned his Ph.D. in Adult Learning from the Neag School of Education and decided to bring his expertise back to UConn to work with the next generation of business professionals.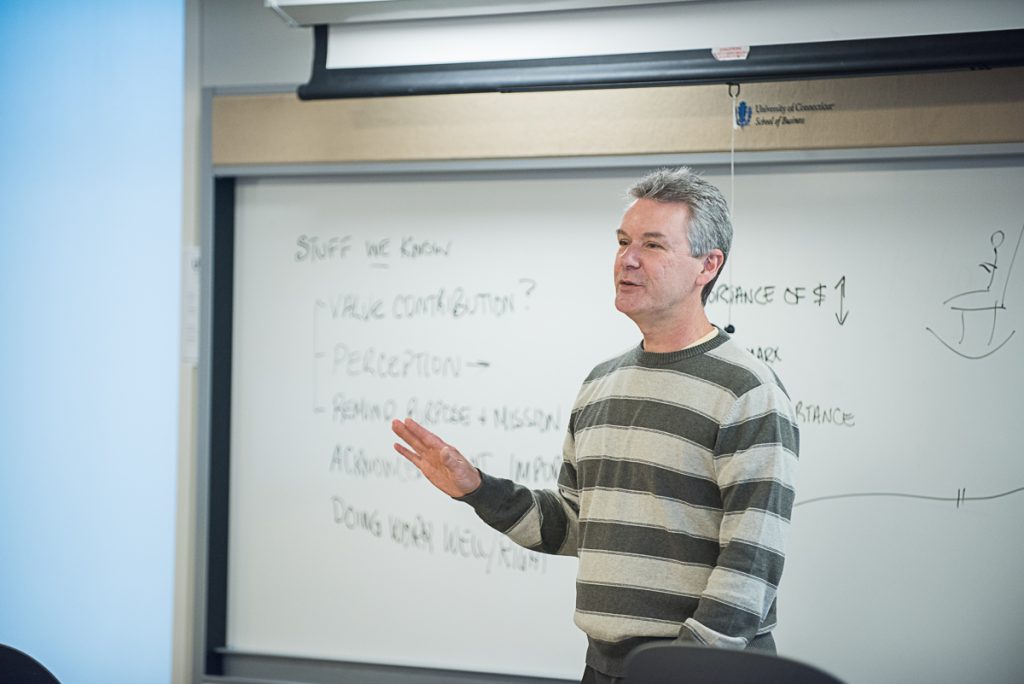 After 30 years in the corporate world and earning a Ph.D., Thompson decided to leave his senior management position and return to Storrs to share his skills and knowledge with business students. He says he hopes to provide students with the same experiences and opportunities he received during his time as a student. Thompson's mission to help students achieve success is clear in his research.
"My research focuses on how to enhance learning for the millennial generation and how service-learning impacts career success," says Thompson.
Using his research as a foundation, Thompson has introduced experiential, project-based learning to the Business School curriculum. In December of 2018, Thompson was awarded the UConn Provost Award for Engaged Scholarship for Non-Tenure Track Faculty, which recognized his dedication to pairing community engagement and student success.
During his time as a Ph.D. student in the Adult Learning Program, Thompson said he wrote a paper that compared and contrasted adult learning scholarship and practice. Ever since that paper, he has been fascinated by the role scholarly research plays in improving lives and increasing student success. Thompson says his experience as a UConn student played a big role in his professional success. "I find that relationships can be even more important for career success than your level of technical expertise," says Thompson. "In my Ph.D. program, I was able to develop relationships with both other students and faculty that are an essential part of my support network to this day."
Thompson says that the most fulfilling part of his faculty position is the regular experience of engaging with students and helping them achieve their learning and career goals. "Not a day goes by that this effort does not bring me satisfaction," says Thompson. "It drives me to try to create an even more valuable experience for the students I teach."
Overall, Thompson describes his UConn experience as "inspired" and says that it's important to take opportunities to pause and reflect on one's life and career.
"It is heartwarming and inspiring to know that I've come to a place in my career where I can leverage all that's been given to me for the benefit of UConn students."