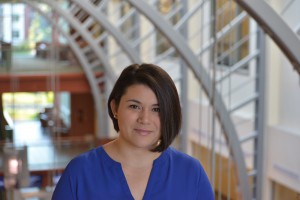 This past fall she was named co-principal investigator for a five-year $3.5 million National Science Foundation (NSF) grant dedicated to expanding diversity in the science, technology, engineering, and mathematics field. Most recently, Assistant Professor of Higher Education and Student Affairs, Blanca Rincón, has been elected to serve on the directorate for the American College Personnel Association (ACPA) Commission for Professional Preparation (CPP), and as a programming committee member for the American Educational Research Association (AERA) Division-J.
As a scholar and researcher, Dr. Rincón continuously shows dedication and passion for higher education, and student affairs. She has a Ph.D. in Education Policy Studies from the University of Illinois at Urbana-Champaign, with areas of expertise in underrepresented minority students in STEM, diversity in higher education, and Latinxs in education. She is most looking forward to serving with ACPA's CPP and AERA's Division-J because both have been systems of support and encouragement for her as she transitioned into her role as a new faculty member in higher education and student affairs. She is especially excited to continue her work with AERA's Division-J. She had previously served as a graduate student representative for two years.
The American College Personnel Association (ACPA) Commission for Professional Preparation is a program committed to student affairs professional preparation through a diverse directorate that creates opportunities that embrace critical values of the profession including, development of the whole student, diversity and ethics; and pursues the professional development of faculty in higher education through collaborative efforts for networking, scholarship and service with colleagues. As a member of the CPP directorate, Dr. Rincón will serve a three-year term where she will represent the interests and concerns of faculty and staff involved in the professional preparation of student affairs professionals. Some of the resources provided through CPP's directorate include: a clearinghouse for syllabi and teaching materials, networking opportunities, faculty grants, and awards.
The American Educational Research Association Division-J, is aimed at encouraging the advancement of research, policy, and practice in various areas of post-secondary education. It is made up of policy makers, faculty, graduate students, and researchers from around the world. Dr. Rincón will be co-chairing the college student access section—one of the largest in Division-J. Part of her responsibilities will include coordinating reviewer panels and helping to shape the Division J program for the AERA Annual Meeting 2018 in New York City. She is extremely thankful for this opportunity, and humbled to be selected to serve in such a capacity with Dr. Ana Martínez Alemán of Lynch School of Education at Boston College, as Vice President.
Through her research, involvement, and clear concern for the field of higher education, Blanca Rincón is making great strides in achieving her goal, and helping others achieve theirs. We look forward to seeing Dr. Rincón take on these new positions within the ACPA and AERA Division-J, and to continue her development as a higher education professional, leader, and advocate for change. With her new responsibilities also comes new learning opportunities, and a chance to enact change at the University and beyond.