Sport management faculty host Global Sports Mentoring Program delegate from Lebanon, UConn Today.
Dr. Laura Burton and the UConn Sport Management Program are mentioned for their work with the Global Sports Mentoring Program which aims to empower female leaders in sport, NCAA Champion Magazine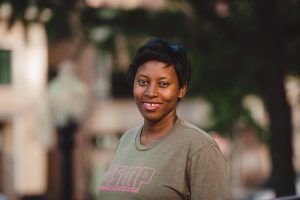 The Global Sports Mentoring Program (GSMP)'s Empower Women Through Sports Initiative is an international initiative co-sponsored by the U.S. Department of State and espnW that partners emerging female leaders from 17 countries with leading executives and experts in the U.S. sports industry.  We are excited to announce that Neag School faculty members Jennie McGarry and Laura Burton will once again be serving in the coming weeks as hosts.
Now in its sixth year, Empower Women Through Sports recognizes female achievement in sport leadership, and aims to empower these emerging leaders to serve their local communities through increasing access to, and opportunities for, women and girls to participate in sports — and, ultimately, ignite change as an ambassador for female athletes around the world.
"What sports has done for me I feel it can do for girls throughout Uganda. ... Sports becomes a platform for a bigger conversation."

— Agnes Baluka Masajja, Global Sport Mentoring Program Emerging Leader
McGarry and Burton, both professors in the Neag School's Department of Educational Leadership, were invited back to GSMP to serve as 2017 program mentors for emerging leader Agnes Baluka Masajja, sports tutor at Busitema University and head of Education Commission with the Association of Uganda University Sports. Baluka Masajja is one of 17 women tapped as 2017 GSMP emerging leaders, all of whom have three or more years of professional or volunteer experience with a sport-based development organization. Each selected emerging leader uses this opportunity to explore a key challenge facing girls and women or people with disabilities in her home country.
'This is my destiny'
Baluka Masajja has always been a natural when it came to sports. She excelled in all her athletic endeavors, including netball, soccer and track and field. However, despite her achievement in sport, her father pressured her to abandon athletics and focus entirely on her academics.
In her featured GSMP emerging leader profile, she explains how she managed to continue her participation in athletics despite her father's wishes, "I would have to hide when I ran so he wouldn't find out," she says. "I would avoid any national competitions or races where there'd be media coverage because I didn't want to get in trouble. By the time I got to university, I told my dad, 'This is my career. This is my destiny.' So he couldn't refuse me anymore."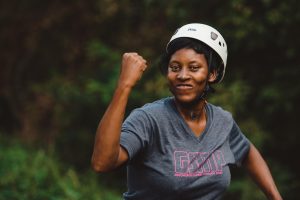 Patriarchal structures in Ugandan society treat men and women very differently in sports. Athletics are seen as part of the natural domain of men. Females in sport often face societal pressure to focus on domestic duties as well as a threat of sexual harassment from male coaches.
Baluka Masajja's story, however, is different. She broke through barriers and currently serves as a role model for other Ugandan female athletes to do the same. As a sports tutor at Busitema University, she holds positions as a coordinator and supervisor for the university's 16 athletics programs, only five of which are available for women. The limited number of programs is something she is striving to change. In addition, she serves as head of the Education Commission with the Association of Uganda University Sports, through which she organizes national and international tournaments; coaches workshops for sports trainers and tutors; and hosts seminars and conferences across Uganda.
Baluka Masajja also was a coach for the country's athletics delegation for the 2015 World University Games in South Korea, and will serve in the same capacity for the 2017 competition in Taipei.
According to the U.S. Department of State's Bureau of Educational and Cultural Affairs website, girls who participate in sports are more likely to have higher rates of school retention and participate in society more. "When women and girls can walk on the playing field, they are more likely to step into the classroom, the boardroom, and step out as leaders in society," the website states.
For Baluka Masajja, this sentiment rings true. "What sports has done for me, I feel it can do for girls throughout Uganda," she says. "Sports becomes a platform for a bigger conversation."
"I hope to develop skills related to management and business that will help me contribute to economic growth. I also hope to learn about U.S. sports and nonprofit environments so I may implement similar ideas at home," explains Baluka Masajja in regards to her goals as a GSMP emerging leader,
After attending next week's annual espnW: Women + Sports Summit in California, an event that unites female athletes, leaders in sports, and other industry leaders, Baluka Masajja will arrive at UConn to spend three weeks immersed in various learning and networking experiences with McGarry and Burton as her host mentors, who are both experts in gender issues in sport, specifically with marginalized ethnic and socioeconomic groups.
The Neag School will welcome Baluka Masajja at the Department of Educational Leadership General Meeting from 9:45 a.m. to noon on Friday, Oct. 6, in Gentry Room 142 on the UConn Storrs campus, and will share more information on this and other GSMP-related activities in the coming weeks.
Learn more through this featured GSMP video or visit the U.S. Department of State's GSMP website. Or, check out GSMP on Facebook. Read more about Agnes Baluka Masajja here.