This fall, Noam Sturm, Principal of Roaring Brook School in Avon and UConn alumnus, will return to facilitate the second module of UConn Neag's PK-3 Leadership Program.  The module, which focuses on assessment and evaluation, brings together a team of nationally-renowned experts to explore the nuances of assessment at the PK-3 level.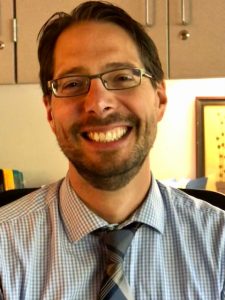 Sturm has over two decades of experience in the field of elementary education, including time spent as a teacher, curriculum specialist,assistant principal, and now principal in the Avon Public School system.  In addition, Sturm has served on a multitude of committees and boards, which includes his involvement in the Systemic Instructional Improvement Program (SIIP) through the Connecticut Center for School Change; his service as a LEAD CT Policy and Practice Fellow through New Leaders; and his leadership as a Board Member of Great by 8, a regional initiative to improve access to high-quality services in the areas of early childhood education and health.
This is Sturm's fourth year as a facilitator for the PK-3 Leadership Program, and he has been a member of the UConn community for even longer: he earned his bachelor's degree, master's degree, and sixth-year diploma in Educational Leadership at UConn.  According to Program Director Dr. Karen List, Sturm's unique combination of "sharp intellect, creativity and flexibility" make him an ideal facilitator for the PK-3 Leadership program. Furthermore, said List, "Noam has worked with a wide range of children and families, from those in abject poverty to those with great wealth. He's experienced with bilingual families. He's adept at bringing coherency across and within the grades, and he believes in continuous improvement."
Sturm said that the upcoming module of the PK-3 Leadership Program approaches assessment from all angles, from assessment of children at the PK-3 level to assessment of PK-3 teachers.  
More broadly, said Sturm,"The program offers tools to help people be advocates for our field. We all need to serve as ambassadors for the age-3 to grade-3 continuum."
"Education is measured ever more tightly," said Sturm, "and as educators, we want to make sure we can support our programs. In this module, we deal with real questions: How do I pitch my own program?  What are the metrics I can provide to the Board of Education, to taxpayers to show that there are substantial benefits?" Sturm and List have incorporated these questions into the curriculum to help participants gain a deeper understanding of how to address these issues that are so crucial to success in the field of early childhood education. As a result of his extensive service in the field, said List, "Noam is uniquely well-positioned to be the instructor for this module."